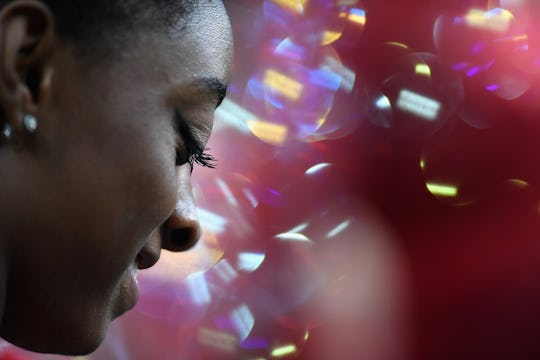 Laurence Griffiths/Getty Images Sport/Getty Images
Nellie Biles' Twitter Is Amazing, Even With The Egg Profile Picture
Even though she has an egg profile pic, Simone Biles' mom Nellie Biles is winning at Twitter. She has more than 1,000 followers, is following a handful of people herself (running the gamut from the entire gymnastics team to Pope Francis) and has been a feed for retweets of all-things Simone Biles. She even retweeted an article from USA Today about her own Twitter account that praised her sweet messages of encouragement to Simone (all signed "Mom").
Nellie doesn't tweet often, but when she does it just shows how deeply she loves and supports Simone. While Nellie hasn't used Twitter to comment on Al Trautwig's NBC commentary, where he suggested that Nellie and her husband Ron weren't Simone's real parents (Ron is her grandfather, and they adopted Simone and her sister when she was 6 years old), nor has she responded to his apology, which he issued yesterday (although Simone's coach, Aimee Boorman, did respond to Trautwig via tweet).
Nellie and the rest of the Biles family have kept Simone grounded as she's risen to the occasion of Olympic fame, and if her tweets are any indication, she'll continue to be a grounding force in Simone's life no matter what.
If Nellie decides to ditch the egg profile pic, this would be a great replacement:
Last but not least, obviously she voted for Simone for the Teen Choice Awards, and even though she didn't win this year, it's sweet that her mom was rooting for her.