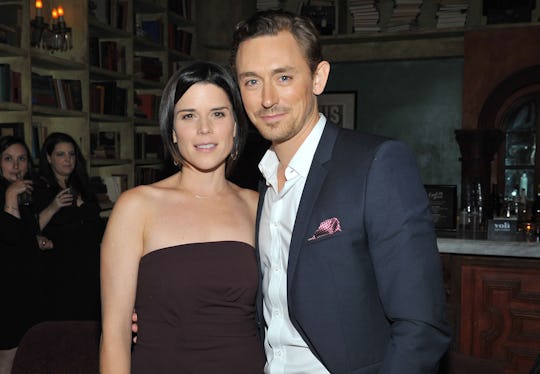 Angela Weiss/Getty Images Entertainment/Getty Images
Neve Campbell's Baby News Announcement Is Incredibly Moving
It looks like Neve Campbell is now a party of four, which is just one away from a Party Of Five. No pressure for the actress or anything, I'm sure she's perfectly happy as a member of a party of four. Not just happy, actually; full of "sheer joy," according to a recent exuberant Instagram post where Neve Campbell announced she adopted a baby boy with her longtime partner JJ Feild. And it's obvious this Party Of Five alum is over the moon with joy.
The 44-year-old actress took to Instagram on Friday to share the happy news that she, Feild, and the couple's 6-year-old son Caspian adopted a baby boy five months ago. She shared a picture of herself, Feild, and Caspian pushing a stroller from behind as the family was out for an evening stroll. The shot was apparently taken after the adoption became official, according to Campbell. She wrote in the caption; "This picture was taken moments after our adoption became official yesterday and I've been dying to share our news with you all!" While the new baby isn't visible in the picture, you can see real joy in the body language of the rest of the family. It's pretty special.
The new baby is named Raynor, in keeping with the family's penchant for choosing distinctive names, as Campbell wrote on Instagram:
Sheer joy!!!!....So it's been a secret up until now as JJ and I wanted to wait until it was official but we adopted a beautiful baby boy 5 months ago. His name is Raynor and we are madly in love with him.
After Campbell and Feild welcomed Caspian in August 2012, the actress explained her taste for unusual names during an appearance on The Talk, according to People:
We looked through a lot of books and I liked the idea of a unique name. I like having a unique name — it's [my mom's] maiden name, Neve — and not a lot of people have it. It's nice having something special and different and so I wanted something like that for our son.
Campbell also wrote on Instagram that Caspian loves being a big brother, even calling little Raynor "my baby;"
Our 6 year old son Caspian is over the moon and asks every morning "Can I hold my baby? Can I feed my baby? Can I play with my baby". It's the most incredible thing we've experienced. We're so grateful for this beautiful light coming into our lives and we think of and are grateful to his birth family every day for such an incredible gift.
The Scream actress' fans were quick to offer their congratulations for the happy news, with some even sharing their own adoption stories:
As someone who was adopted it's amazing to know how much joy it can bring to a family.. it's truly a selfless act on the part of the birth parents.. congrats to your amazing family..
Neve Campbell is one of those actresses who seems to strike this great balance of career and family. She's always doing something interesting with her work (if you haven't seen her playing Claire Underwood's right hand woman LeAnn Harvey on House Of Cards, stop everything and do this now please) but clearly knows how to maintain a happy private life. After all, she adopted little Raynor a full five months ago and managed to keep it out of the headlines, which is pretty impressive.
Now that the news of Raynor's adoption is out in the open, it would be nice to think we might see a picture. But I doubt it, it's not her style. Campbell will keep her family life to herself, and honestly, I'm good with that.