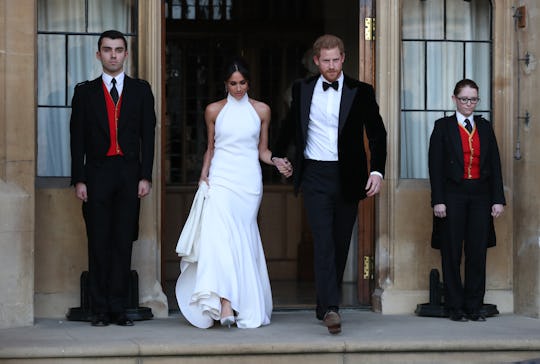 WPA Pool/Getty Images Entertainment/Getty Images
The Way Harry & Meghan Combined Their Cultures At Their Reception Is *So* Cute
If you're still obsessing over Prince Harry, Duke of Sussex and Meghan Markle, Duchess of Sussex, you're not alone. Nearly everyone in the world is still hanging on for more details about the royal couple, and luckily, there are plenty to come. While the wedding itself was an intensely beautiful and magical affair, the TV-camera-free reception has left fans with a little more mystery. But new details about Harry and Meghan's reception have arrived, and, as to be expected, it sounds like a really lovely night.
This week, actress Janina Gavanker (she was the one wearing that incredible orange dress at the wedding with the amazing cape), who's close friends with Meghan, shared some new deets about the reception and celebration for the couple. In an interview with Town & Country magazine, Ganaker shared that the reception at the Frogmore House, hosted by Prince Charles, Prince of Wales, was much more intimate than the wedding with around 200 close guests. And while the wedding itself was less traditional than one would expect from a royal wedding, it sounds like the reception was pretty casual and less formal, too.
Ganaker described it as a "beautiful day and a carefree night," sharing that everyone danced until the "wee hours" and "ate sliders at 2 in the morning." You guys, this is basically my dream evening. (OK, but only if you added Netflix in.)
Without giving too much of the night away, Ganaker was able to share one really special detail. Apparently the blending of American and British cultures went beyond the ceremony where Meghan and Harry chose Bishop Michael Curry, head of the Episcopal Church in the United States, to give the sermon. Throughout the reception, Ganaker said the table names were inspired by the ways Americans and Brits pronounce certain foods, like potato and tomato. "Potato, potato, tomato, tomato, oregano, oregano," she told Town & Country. "It was so sweet. There were so many nods to the beautiful mashup of two cultures."
Ugh. As if you couldn't love these two anymore, right?
But despite the cute, fun moments, it was also still an incredibly romantic evening. Fans had heard before that Prince Harry's speech to his brand new wife was particularly lovely, and Ganaker confirmed this in her interview. "The speech that Harry gave was so funny, self deprecating, filled with love, and that guy just has her back. I left feeling so solid for them," she told the magazine. Oh man, my heart is literally bursting right now.
So, as everyone expected, the reception was a fun celebration that was truly about honoring the love these two have for each other. I just adore the idea that they kept each other's roots in the style and decor of the wedding, and my eyes honestly want to tear up at the thought of Harry's speech. Now I just need more details on all this dancing. Did the queen boogie until 2 a.m., too? Was Prince Charles twirling his new daughter-in-law across the room? Did Prince William, Duke of Cambridge do the Cha-Cha Slide? Were both Prince William and Catherine, Duchess of Cambridge, horribly hungover in the morning and calling for the nanny to feed their brood in Kensington Palace? (Hi, that would totally be me. No shame.)
I'm sure more details will emerge as more friends and family members of the couple gush on the amazing night, but for now, all I can hope for is that Prince Harry and the new Duchess of Sussex enjoyed their celebration as much as the rest of us did. I've seriously never been so invested in someone else's wedding, but hearing these reception details just makes me think they truly loved every moment of their day. And if anyone deserves it, it's those two.