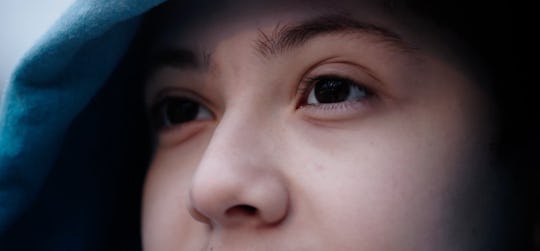 Courtesy of Beck Media
New Doc Tells One Family's Harrowing Story With America's Flawed Immigration System
Imagine you're just a kid, living happily with your mom, dad, and sister in the United States, where you've lived your entire life, and then suddenly your whole life is turned upside down and your family is now far away in another country. That's what Colossus, a new documentary about family separation, painfully and poignantly depicts: the heartbreaking effects of the United States' broken immigration system and the families suffering because of it.
The film, which premiered earlier this month, tells the powerful story of 15-year-old Jamil Sunsin, who now lives in New Jersey — but his immediate family is in Honduras. Jamil was born in the United States, so he's an American citizen. But his parents and older sister Mirka — who was brought to America with her parents when she was not even a year old — are undocumented, something Jamil and his sister unexpectedly learned during a routine traffic stop years ago and ultimately led to the family being separated by nearly 2,000 miles.
With violence rampant in Honduras and its murder rate among the highest in the world, according to Human Rights Watch, the fact that two parents would be willing to take major risks to ensure their family's safety and well-being is telling. However, following their deportation, just Jamil was able to return to the United States and start a new life in Jersey City with his relatives. And as any mother, father, son, or sister can understand, being separated from each other has been extremely hard.
America's immigration policies and President Donald Trump's hostile approach to this broken system have been the center of debate as of late, and Colossus sheds light on a side of this conversation that often gets lost in politics: the families that are directly impacted by it all. "It was very important to me to finally put a face to what we talk about with separations," Jaime Dávila, President of Campanario Entertainment and Colossus' executive producer, tells Romper.
The documentary shows the heartbreaking toll separation has taken on Jamil and his father, sister, and, perhaps most notably, his mother. It's the especially harrowing scenes — like when Jamil's mother is overwhelmed with tears — that Dávila hopes can "put a human face to these separations."
"No kid and no family should have to go through that because we can't figure out our immigration system. Politics gets in the way and we treat families like this as a result," says Dávila, whose other credits include Bravo's upcoming Mexican Dynasties and a pilot for ABC inspired by Selena Quintanilla.
Jamil and his family are just one of many, many families struggling to work through America's complicated immigration system while trying to survive in countries that are plagued by violence and poverty, such as Honduras, as CNN reported earlier this year. As of October, according to The Washington Post, a projection for 2018 shows that pending immigration cases are expected to exceed 915,000. But between the climbing numbers and the news coming out of the White House, it may be hard to see the faces behind such policy choices.
By showing an intimate look at one family's experience with America's immigration system and being separated from one another, Jonathan Schienberg, the director of Colossus, thinks the film will help people "identify and empathize with these issues on a very humane level."
"You can disagree on the politics but I think, generally, if you have a beating heart and you watch the film, you're going to identify with the struggle, the pain, the heartache of separating someone from their immediate family," says Schienberg, whose other projects include series such as Explorer and Years of Living Dangerously for National Geographic.
Over the summer, as HuffPost reported, thousands of immigrant families seeking safety and asylum in the United States were separated at the border following a "zero tolerance" policy enacted by Trump. Ultimately, a judge ordered the Trump administration to reunite families, according to Politico, calling the aftermath of the policy "a chaotic circumstance of the Government's own making." However, as of Nov. 8, CNN reported that 171 children from separated families were still in U.S. custody.
"We're creating a potential health crisis in this country eventually by separating hundreds of thousands of children," Schienberg tells Romper. "There's no secret to the psychology behind what happens to a child when you separate them from their parent."
Indeed, according to Psychology Today, research on the subject shows that "separating children from their family members is a traumatic event that can have lifelong consequences." Additionally, according to Psychology Today, John Eckenrode, professor of human development at Cornell University, described the policy as "institutional child abuse."
Beyond providing an up-close look at the impact of family separations years later, Schienberg hopes the documentary will reach people on a "guttural emotional level" that will encourage them to push for a more comprehensive and compassionate immigration system.
Colossus is "a modern-day immigrant tale," according to the film's bio. Though his family is in Honduras, Jamil is an American. But because his sister Mirka was not born on U.S. soil, she is not, despite living the first decade of her life here.
"Obviously if you were born here, that makes you an American," Dávila tells Romper. "But Mirka, who is stuck in Honduras, feels and sounds just as American." The Sunsin family's tough situation is not unique, and Dávila added that he hopes the film ignites people to ask the larger question of "what really makes an American."
At its core, Colossus highlights the flaws of the American immigration system and the ripple effect it leaves on countless families. "The system is broken," Dávila says.
Fixing it is, and will be, complicated. Politics is ugly and it's not always easy to talk about. But these conversations need to happen and looking at one family's heartbreaking experience helps to bring a much-needed aspect of humanity and heart to the problem.
Colossus premiered on Nov. 14 at DOC NYC and is expected to show at additional festivals in the near future. More details on upcoming screenings will be shared on the film's website when they're available.