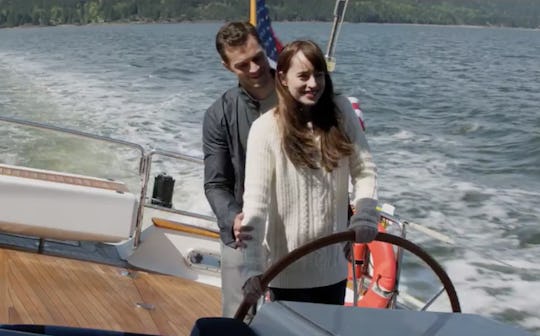 Universal Pictures
New 'Fifty Shades Darker' Trailer Shows Things Are Indeed Taking A Dark Turn
With only a couple of months until its release, a second Fifty Shades Darker trailer has been released, and this time things are taking a much darker, thriller-y turn that some fans may not recognize from the original. If you read the books, you know that the second installment is much more intense — in many ways — than the first one. While sexual limits are tested in the relationship between Christian and Ana, it is the external factors that truly drive the plot. And, those "factors" are revealed in the brand new trailer.
In the trailer, we see almost the entire plot of the film take shape. It starts with Christian and Ana reuniting. If you recall, the first film ended on a rather pregnant pause. Ana left Christian after the "red room of pain" went a little too far, in her mind, and that seemed to be the end for these star-crossed lovers. Except, as readers of the books know, that's not how it ends. That's not how it even remotely ends. (Spoilers ahead for those who have not read the second book.) In the second book, and newest trailer, the two resume their physical relationship, testing their limits, and ultimately finding a solid footing to explore a Real Relationship, as much as Christian steered away from that in the first film.
But, as mentioned before, it is the external factors that play a bigger hand in Fifty Shades Darker. The two meet obstacles that are beyond their own control. Ana meets Mrs. Robinson (Kim Basinger), who plays into her insecurities with Christian, Ana starts working at a publishing house that employs a less than ideal boss, and the two face a stalker — one of Christian's former subs. All of that, and more, can be seen in the trailer below.
The film, which will come out on February 10, 2017, has a new sound, too. Beyoncé has given the Sexy Vocals Torch to Miguel, who covers "Crazy In Love" in both trailers that have been released thus far. While no one can ~replace Beyoncé~, Miguel's vocals certainly help in adding to the thrill aspect of the sequel.
Will Ana and Christian make it through the hurdles (and helicopter crashes) that stand before them? While we'll have to wait and see if the movie stays true to the book — but from the trailer, it seems like we can expect things to stay on course.