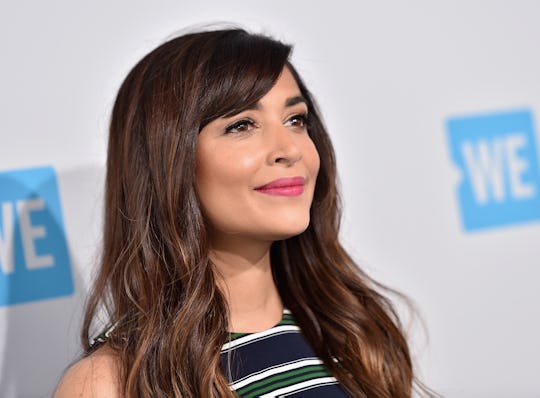 Mike Windle/Getty Images Entertainment/Getty Images
'New Girl's Hannah Simone Welcomes Her First Child With Jesse Giddings
On Thursday, New Girl fans woke up to some incredible news. According to E! Online, Hannah Simone has welcomed her first child with husband Jesse Giddings. Although Simone decided not to share the name of her baby, her representative did confirm that it's a boy. As expected, diehard New Girl fans are freaking out about the birth.
According to E! Online, Simone gave birth to her son "earlier this month." Similarly to a lot of celebrity parents, Simone and Giddings have decided to keep the details about their son and his entrance into the world 100 percent private. Simone hasn't posted about her son on social media and neither has Giddings. Considering Simone and Giddings rarely post about their private lives on social media, it's no surprise that they're keeping this exciting news under wraps. You've got to appreciate a couple that stays on brand, right?
As for the timing of the birth, it couldn't have been more appropriate. Remember when Simone's New Girl character, Cece, revealed her "pregnancy" in the Season 6 finale? Cece's storyline has an even more special meaning now that Simone has welcomed her son, and fans are absolutely living for the cute coincidence.
Check out some of elated reactions to the news below:
Yep, the love for Simone and her new son is through the roof.
As for Cece's pregnancy, fans will get to see her and Schmidt tackle parenthood now that New Girl has officially been renewed for its seventh and final season. According to Deadline, the seventh season will jump ahead "three years" and it will "feature major milestones for all main characters over the period of one year." The news is a big relief for fans who thought the show might not be renewed past Season 6. The only bad news? According to Entertainment Weekly, the final season of New Girl will be a short "eight episodes," which is seriously dialed back from the usual 22 episodes. Given the short time frame, it will be interesting to see how the show will handle Cece and Schmidt's baby storyline and their roles as new parents. It's also unclear whether Simone's pregnancy will be at all featured or incorporated into the last season.
New Girl storylines aside, this is an incredibly exciting period for Simone and Giddings. Becoming parents for the first time is an unbelievable and transformative experience, and it makes sense that they want to cherish these moments with their son privately.