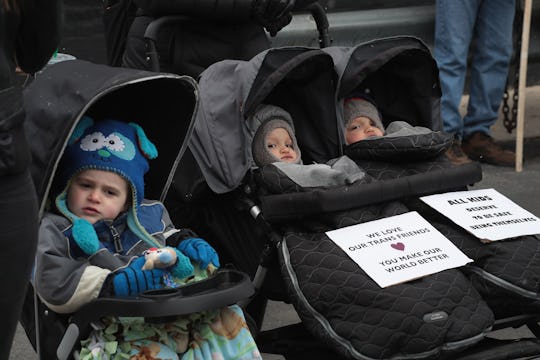 Scott Olson/Getty Images News/Getty Images
New York Changes Infertility Coverage In A Huge Way
Anyone who has struggled with infertility issues or same-sex parents are well aware of the emotional toll the journey can take on a person. The waiting, the hoping, the fear that it will all come to naught. And that's without the added stress of financial worries. Well, some would-be parents in New York might be able to strike that last concern off their list of stresses. Because New York will force insurers to cover infertility for same-sex couples and single parents. It's a hopeful leap forward for many people living in the state who simply want to love a child, and it's a policy that should extend to other states ASAP.
According to a report by The Cut, New York was already ahead of the curve when it came to mandating insurance coverage for infertility treatments. Only 15 states in the country were mandating that insurers had to provide some coverage for infertility costs, but here is where it was getting tricky: The previous language describing qualified coverage for people between the ages of 22 and 44 stated that prospective parents must have been trying to get pregnant for at least 12 months (though only six months for parents over 35) through "regular intercourse." That left same-sex couples, single parents, and any other non-traditional family out in the cold.
On Wednesday, New York Gov. Andrew Cuomo sent a letter to insurance providers letting them know the state would no longer allow any provider to refuse to cover infertility treatments for same-sex couples or single people. In that letter, Cuomo also outlined that the state (through the Superintendent of Financial Services) would require insurance providers to define infertility with the same language as used by the American College of Obstetricians and Gynecologists:
...a disease, defined by the failure to achieve a successful pregnancy after 12 months or more of appropriate, timed unprotected intercourse or therapeutic donor insemination.
Removing the "intercourse only" guideline means, according to The Cut:
if an individual meets the definition of infertility and otherwise qualifies for coverage then an issuer must provide coverage regardless of sexual orientation or marital status.
This is good news for same-sex couples like Sarah Soller-Mihlek and her wife, Jill, who were reportedly denied insurance coverage from their insurer after undergoing nine treatments of unsuccessful IVF to the tune of just over $13,000, according to The New York Times. They were reportedly denied coverage because Soller-Mihlek was not having intercourse with a man. The frustrated couple shared their journey through a Change.org petition and an Indiegogo campaign, and after spending $22,000, Soller-Mihlek is now pregnant, according to the Times:
As happy as we are with our growing bump, it won't be a complete success story until we know that no more families have to go through what we did to get here.
Though the couple is out tens of thousands of dollars, their struggle illuminates the inhumanity of old insurance and infertility stipulations, and makes clear just why this change in New York should be replicated across the country.