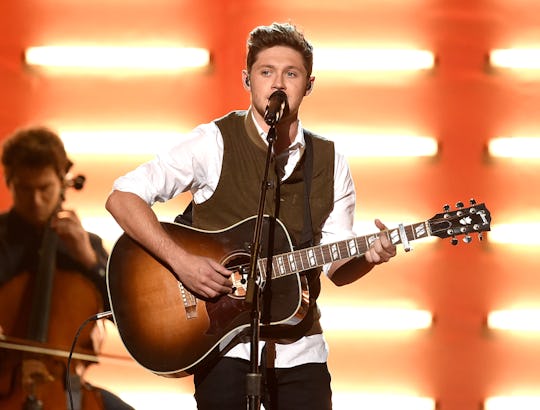 Kevin Winter/Getty Images Entertainment/Getty Images
Niall Horan's AMAs Performance Proves He's Got True Talent
The performance list for the 2016 American Music Awards was pretty incredible. Legendary musicians like Lady Gaga, John Legend, Sting, and Bruno Mars are all scheduled to light up the stage on Sunday night. Although Niall Horan was no stranger to the stage as part of the ridiculously popular boy band One Direction, he is a relative babe in arms performing solo. Expectations were high for Niall Horan's AMA performance, and not only did he rise to the occasion, bt he was even better than expected.
According to MTV, Horan's first solo performance since exiting One Direction was at the 2016 BBC Radio One Teen Awards in October, and it looked to be a truly emotional occasion. After all, Horan quite literally grown up with his fellow One Directioners Harry Styles, Zayn Malick, Louis Tomlinson, and Liam Payne. The adorable boy band have been touring together since 2010, and have only just started to launch their individual solo careers within the last year. Zayn Malick was the first of the five to go rogue, releasing his first single "Pillow Talk" in early 2016. Now that Horan has released "This Town," he seemed ready to take on the big stage at the AMAs, and his fans couldn't have been more excited.
Horan has been getting pretty rave reviews for "This Town", a folky, sweet acoustic song about young, lost love that is sure to have teenage girls crying into their pillows (and maybe even some of their moms like this girl here).
If the AMAs audience reaction was anything to go by, Horan officially nailed it. His performance of "This Town" was a stripped down, acoustic thing of beauty. So different from the ballads of One Direction and yet so totally right for Horan. That one performance took him from teen heartthrob to bona fide star. Also, still a heartthrob, but you know what I mean.
I have to admit, Horan's performance stuck a chord with me (no pun intended). Despite the fact that I never really got on board the One Direction train, I found him endearing, and I wanted him to do well. Like a stage mom watching from home in my pajamas, I was sweating it out, crossing my fingers that he wouldn't mess up. Turns out, I had nothing to worry about. Horan looks to have a long career ahead of him, if his performance and the gaggle of screaming girls are any indication.