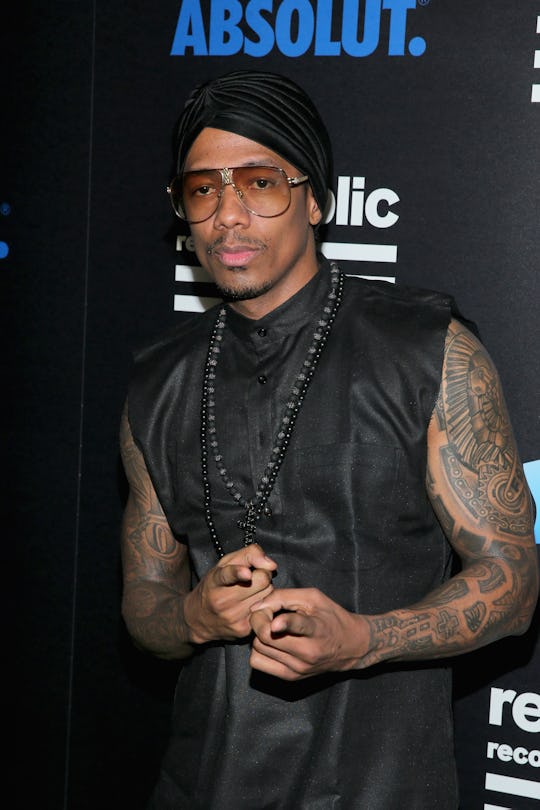 Jemal Countess/Getty Images Entertainment/Getty Images
It's Baby No. 3 For Nick Cannon
In a perfect Instagram post Wednesday afternoon, Nick Cannon announced that he has welcomed a baby boy with Brittany Bell. Golden "Sagon" Cannon was reportedly born Tuesday, and his dad wasted no time in giving him some skin-to-skin contact and introducing his fans to his third child. Already the father to 5-year-old twins Moroccan and Monroe with ex-wife Mariah Carey, Cannon is certainly no newcomer to the joys of parenthood — but that doesn't mean he's any less enthralled.
"Weeping may endure for a night, but Joy cometh in the morning!" the tattooed America's Got Talent host captioned the sweet snap of himself, shirtless, cuddling the newborn to his chest. "No matter how hard the world may hit you, God always reminds us of our purpose! #TrueHappiness."
Editor's Note: The above referenced Instagram post has since been deleted.
Cannon confirmed that he and Bell, a former Miss Arizona USA, were expecting a baby together back in November. Cannon and Bell dated briefly, according to Gossip Cop, but are no longer together. Regardless, there appears to be no animosity between them, as the 36-year-old rapper called her a "special young lady" and said he would not refer to her as his "ex" when he told Power 105.1's The Breakfast Club his baby news in last year.
Cannon announced that he would become a dad for a third time right after his divorce from Carey, from whom he'd been separated since 2014, was finalized. But even though he's no longer with Carey, he showed he was still devoted to their kids, posting a photo of himself making goofy faces with daughter Monroe during a Toys "R" Us outing. And he had a heartwarming message of encouraging self-esteem and individuality to go with it: "I tell my daughter to make lots of funny faces... because it's not about being pretty, it's about enjoying life and having a great personality!" he wrote.
Cannon's younger son's birth comes just a day after the rapper threatened to sue a tabloid for reportedly planning to run a story that stating Carey intends to seek full custody of Monroe and Moroccan, but it seems that he and Bell are confronting less strife in setting up custody arrangements. Gossip Cop reported that the two have agreed to co-parent, and Bell even posted to Instagram a photo of the two of them smiling together and cradling her pregnant belly recently.
"I love the both of them beyond words. 💙💙 So many reasons to be joyful!!" she captioned the post. "But last night was one of my favorite. Our little light was showered with love.. and lots of dancing.#thislittlelightofmine #babyontheway#happymommy #sweetdaddy"
Congratulations to Cannon and Bell, and a big welcome to little Golden!