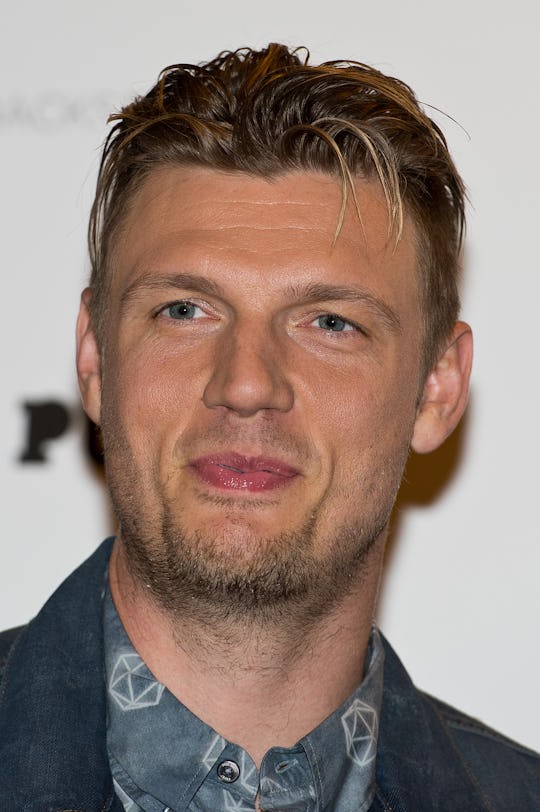 Ben A. Pruchnie/Getty Images Entertainment/Getty Images
Nick Carter's Latest Baby Photo Will Give You The Warm & Fuzzies
If you haven't already recovered from how ridiculously sweet the first pictures of Nick Carter's new baby Odin Reign were, then you might want to click away, because Nick Carter's latest baby pic of little Odin is something else — as if all his other #dadgoals weren't enough. On Tuesday, the ex-Backstreet Boy posted a pic of himself and Odin at mealtime and captioned the pic, "I don't mind changing diapers and feeding him at all. #love" (D'aw, right?) If that doesn't convince you to swap your vote to #TeamBackstreet, I'm not sure what will.
Carter and his wife Lauren welcomed Odin into their family two weeks ago. Ever since then, the couple have been open about sharing their happy news and snapshots of new parent life on social media. Like most new moms and dads too, their posts range from sheer excitement to shock at how much love one can feel for the newest member of their family.
Shortly after Odin's birth, Carter shared a picture of his son snoozing. "I just love how peaceful he is," Carter wrote in the caption. "Daddy will be home soon." Well, it looks like Carter has finally made it back to snuggle to spend some quality time with Odin himself, and it turns out we all reap the benefits when that happens.
While Odin is definitely a sweet baby, perhaps the best part about the newest Backstreet Boy is that he had a Game of Thrones baby shower. Yes, really. The party featured lots of Renessaince-era style food like turkey drumsticks, fur, and a dessert bar that had a frosted cake that said, "Winter Is Coming," according to People. Fur, loose dresses, and turkey drumsticks sound like a great way to celebrate a baby, right? The other Backstreet Boys members were there, too, which sort of makes it the ultimate party as far as I'm concerned.
The new parents were admittedly nervous about the arrival of their first born son. Earlier this month, Carter told People that even though he had some jitters, he knew that his wife would make a good partner for the crazy ride ahead of them.
"That's the No. 1 reason why I wanted to be with her for the rest of my life, because I know she is going to be the perfect mother," he said. Likewise, Lauren posted a picture of her and Nick cuddling just before he was headed home from his tour. She captioned the photo, "We are so excited to have you home and embark on a new adventure together."
Now, it looks like all three are finally getting settled in together, which is always a good thing.