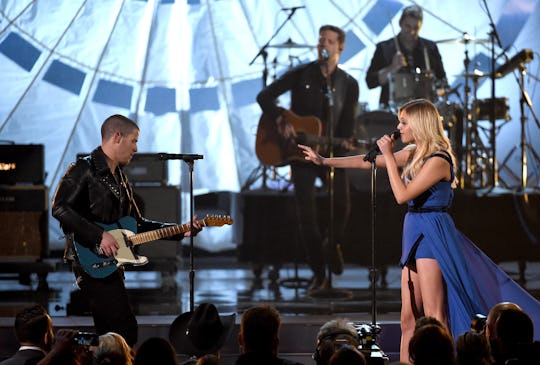 Ethan Miller/Getty Images Entertainment/Getty Images
Nick Jonas & Kelsea Ballerini Performance At ACM Awards Will Blow You Away
The 51 Annual Academy of Country Music Awards aired Sunday night to the delight of country and pop music fans alike. The awards show has made a habit of combining country music stars with pop icons to give its wide range of viewers something enjoyable, and this year was no different. Illuminating the Academy's ability to do just that, Nick Jonas and Kelsea Ballerini's ACM Awards performance proved that less is more and, sometimes, the most incredible talent is best served raw.
While it would have been easy to cheapen their duet with heavy-handed synthesizers and cool pyrotechnics, the two kept it simple and elegant. Jonas played the electric guitar, showcasing his bevy of talents as a musician and also a soloist, as the two harmonized to elegant background music. In a time when popular country music is heavily criticized for being more pop than twang, Jonas and Ballerini's performance proved that pop and country can co-exist in the most beautifully simplistic ways. It was pleasant to a wide range of music lovers without compromising the integrity of country music, and because of that, the twosome hit it totally out of the park.
Here's the clip, in case you missed it:
Earlier in the week, Kelsea Ballerini spoke about her ACM duet performance of her newest single, "Peter Pan," hinting that she was going to incorporate some of her past popular songs during her shared time on stage. Of course, her set wasn't the only thing Ballerini spoke on. "I thought I was going to marry him when I was 13 years old," Ballerini admitted, talking about sharing the stage with Jonas. "So, it's very casual that I'm on stage with him." The Female Vocalist of the Year went on to say that it was a "dream come true" to be able to perform with the boy-band-turned-pop-icon.
Judging by the way the two looked at one another on stage, it was clear that raw musical talent wasn't the only connecting vibe these musical performers where sharing. Whether the microphones were perfectly positioned to assist the singers in facing one another was on purpose or mere, artistic coincidence remains to be seen; but it definitely helped to feed the collective artistic fires between the two as they shared a stage.
Which is why it's no surprise that Ballerini wasn't the only one excited for (or during) the duet performance. In fact, it was Jonas who revealed he would be sharing the ACM stage with Ballerini on March 29, probably because was too excited to keep that kind of news to himself. Can you blame him? Ballerini boasts back-t0-back No. 1 hits "Love Me Like You Mean It" and "Dibs," so Jonas is in the presence of emerging country music royalty, to be sure.
Twitter has some feelings about the duet, proving once and for all that country and pop can co-exist. Here are just a few 140 character thoughts:
The ACMs always provide viewers with start-studded, emotional, powerful, and beautiful performances, but it's safe to say that Nick Jonas and Kelsea Ballerini took the figurative cowboy cake on Sunday evening. This performance will definitely not only be talked about for weeks to come, but will inevitably be used as one of a multitude of reasons why music lovers will want Jonas and Ballerini to team up again and again.