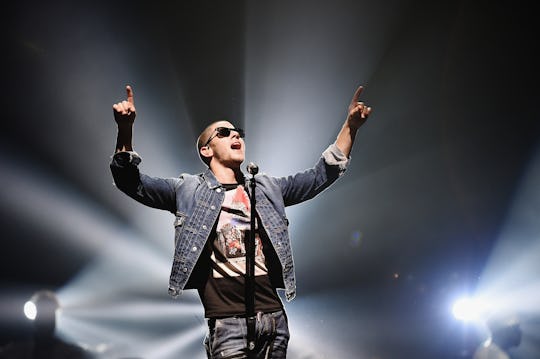 Nicholas Hunt/Getty Images Entertainment/Getty Images
Nick Jonas' VMAs Performance Lived Up To The Hype
It's a good thing the youngest Jonas brother and MTV were able to put their differences aside for the Video Music Awards, because Nick Jonas' VMAs performance was the stuff of legend. Taking the stage with Ty Dolla $ign for the song "Bacon," Jonas got the crowd fired up. He also made those of us at home question why on earth he didn't get any VMA nominations for Last Year Was Complicated, his latest album.
Singing while making the rounds at the Tick Tock Diner in New York City, Jonas was surrounded by some patrons who clearly wanted a little "Bacon" with their burgers. There was even a mini Jonas Brothers reunion, so what more do you need? Funny you asked, because Jonas then took to 34th Street with Ty Dolla $ign to continue the performance for a lucky crowd of NYC viewers who made it onto the barricaded street. That alone made it an easy contender for the most epic performance of the night, at least in terms of scale.
When the 2016 VMA nominations were announced in July, Jonas was understandably disappointed by the snub of his album and recent hit with Tove Lo, "Close." He took his complaints to Twitter, saying, "Disappointed with the fact Close got no love for the #VMAs2016." But then he quickly seemed to put it all in perspective. He added:
Actually after thinking about it more there are so many amazing things happening in my life and career. 9 out of 10 boxes are checked... Won't let this one thing get to me. I'm feeling so inspired and grateful these days. Gonna focus more on caring less about the small stuff.
Perhaps wanting to make amends with the singer, MTV announced Jonas was going to perform earlier this month by releasing a slightly trippy video on Twitter.
In a voiceover on the video, Jonas mused about the power of music:
For me, creativity is the backbone behind everything I do. It's about seeing the world in a new, imaginative way. There are so few things left in this world that you can actually make. It's important to keep in mind the impact of all forms of art. Music is the universal language. Keep sharing.
After all that hype, it was good to see Jonas didn't disappoint with his performance.
To be honest, the only way it would have been better was if Jonas had taken off his shirt — but at least Nicki Minaj and Ariana Grande had us covered with that eye candy.