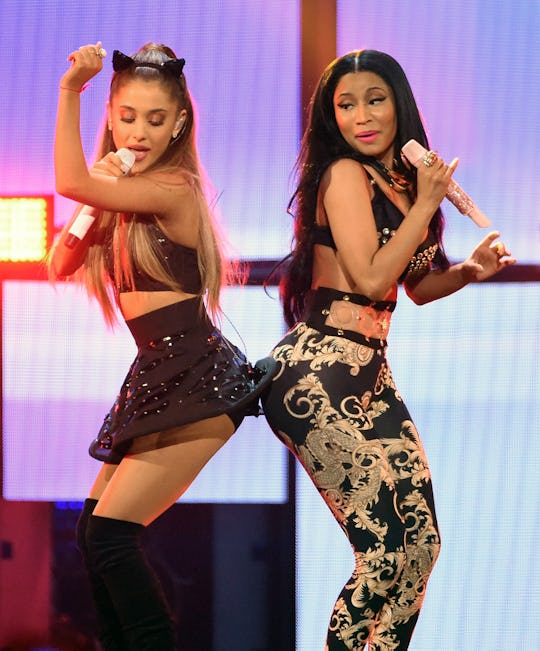 Ethan Miller/Getty Images Entertainment/Getty Images
Twitter Reactions To Nicki Minaj & Ariana Grande's VMAs Performance Are The Best
The only thing better than getting a Nicki Minaj performance a half hour into the VMAs is a performance that also involves Ariana Grande. Because if their past together on stage has taught us anything, it's that Nicki Minaj and Ariana Grande performing at the VMAs is everything. And Twitter agrees with that sentiment. It was the general consensus that Minaj and Grande's performance was pretty perfect all around, from the Soul Cycle spinning class beginning to the entrance of our girl Minaj and the two of them just giving it everything on stage together, so obviously fans everywhere swooned over Minaj and Grande's performance on the VMAs Sunday night.
Not only was it amazing to see the two of them together again, but it takes a certain amount of talent to be able to sing live, and do it well, while riding up and down on a freaking stationary bike. Because who can even hold a conversation during spinning class, much less hold a note while singing? And when Minaj busted out on stage, in a way that was a lot more slow and dramatic than bursting onto the scene, it kind of upped the ante even higher.
Obviously super and casual fans alike can appreciate the excitement and importance of seeing Minaj and Grande perform together at the VMAs, because having two strong female performers banding together to create something like that is so much more important than two female artists feuding. And Twitter is kind of obsessed.
If nothing else goes smoothly at the VMAs, everyone can rest easy knowing that their performance was spot on and virtually flawless. Maybe there was a little snafu with one of the male dancers getting Grande's robe off, but who said she needed any man's help, right? Grande and Minaj on stage at the VMAs created a dual performance that not only killed it, but the mixture of hot pink and blonde hair swirling around on that stage was enough to make up for any malfunctions, should they have endured any.
Seeing the performance between Minaj and Grande at the VMAs so early on in the night kind of set the tone for the show. No, not necessarily that we should all buy gym memberships like right now, but it was a strong way to kind of start the night. Not that Rihanna's initial performance wasn't amazing in its own right, but there's something totally right about seeing Grande and Minaj performing on stage together.
Nicki Minaj and Ariana Grande's performance at the VMAs was basically a hit all around, even if you aren't all about that Grande or Minaj life, because the two of them together are performance gold. It also helps that they both look good in pink, but that's beside the point.