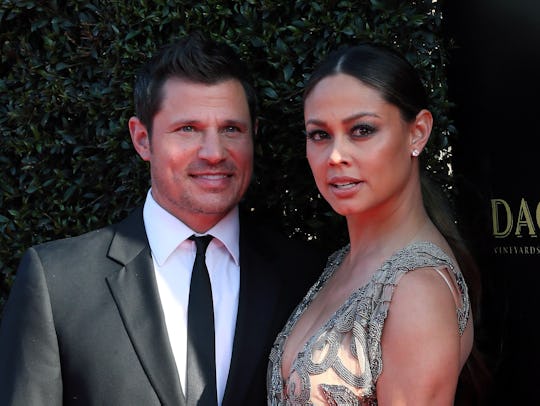 David Livingston/Getty Images Entertainment/Getty Images
Nick Lachey Serenaded His Daughter Just Like In Your Boy Band Flashback Dreams
This whole daddy/daughter thing can seem a little irksome every once in a while. Like an uncomfortable parenting trope that's from the good old days that probably weren't that good, to be honest. I'm not a huge fan of the whole daddy's girl scene unless it involves serenading and a member of a boy band. Then I'm all for it. And if you're being honest you know the sight of Nick Lachey serenading his daughter is everything you wanted when you were a teen girl picturing yourself married to him one day. That might have just been me, but either way you know what I mean.
The singer and TV host has three kids with wife Vanessa Lachey; 6-year-old son Camden, 3-year-old daughter Brooklyn, and 20-month-old son Phoenix. He is one of those guys who always struck me as someone who was meant to be a dad, even back in the day when I was salivating openly over him as a member of 98 Degrees. Clearly I was right; this guy was made to be an adoring dad. Exhibit A; he shared a video on Instagram on Friday of a rehearsal for his upcoming tour. In the video he is singing his heart-melting hit "I Do (Cherish You)," and his adorable daughter has wrapped her arms around her dad's arm. All the better for him to serenade her, of course.
He captioned the video "Daddy's Girl Forever!" and I loved it so much I'll let it slide.
Let's give the lyrics he's singing to his daughter, who looks like she's in music heaven as she sways back and forth, to really dive deep into our feelings about this special moment, shall we?
All I am, all I'll be, everything in this world, all that I'll ever need is in your eyes, shining at me.
Now here is a picture of Lachey being handsome with his son to balance things out and make him even more wonderful. His son Camden recently started his first day in kindergarten and his dad was getting emotional about it, writing:
My high & low for today: my son's first day of Kindergaten, definitely a HIGH! Apparently also my last day for public kisses.
This is so sweet it's almost enough to make this cynic cry. Almost.
I wasn't the only one moved to (near) tears by this video. Fans took to Lachey's Instagram wall to express their adoration as well:
Aaaawwww so adorable hanging on to dads arm for dear life.
Omgnesss she is the cutest doll ever. Your smile though!
Awww, one of my favorite "98 Degrees" songs. So so So cute 💕
People who were fans of 98 Degrees probably got a little more joy from this post from Lachey than others, I'll grant you that. But for those of us who were fully invested in the boy band years, let me just say that a video of Nick Lachey serenading his adoring daughter with his most romantic song ever might be a secret dream come true.
Only with one of us and not his wonderful wife, but whatever.