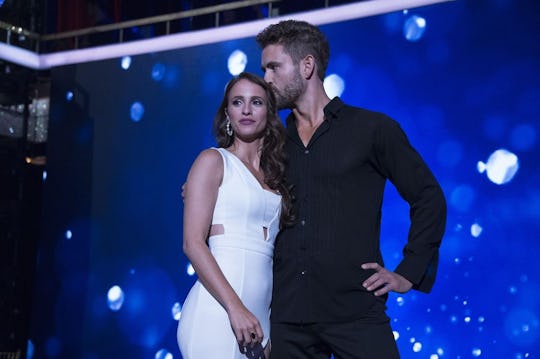 Eric McCandless/ABC
Nick Viall Made A Big Change For Disney Night On 'DWTS'
For those who are all about Bachelor Nation, it's been literal years since anyone has seen the latest Bachelor clean shaven. But Nick Viall shaved his beard for Dancing With the Stars to play Pinocchio and he was almost unrecognizable. In the opening number on Monday's episode of DWTS, each of the pros and stars played some Disney role and sure enough, Viall was there as Pinocchio, looking much more like a real boy than the former Bachelor with a permanent sexy stubble on his chin.
I don't know if it was a bad thing to see Viall without a beard for the first time in a while, but it was definitely weird. In fact, he looked so different that it was like a blink and you'll miss him moment during the opening number. In a People magazine vlog, Viall revealed that in order to totally embrace the character he would be portraying in Monday's opening song on DWTS, he decided to "just to fully embrace the character, have fun with it." No one can ever accuse Viall of not being dedicated to the show, that's for sure. "Last week was obviously sexy and sensual with the rumba," he said. "And this week's jazz, and it's just playful and goofy."
Seeing Viall without a beard on DWTS was definitely a surprise and whether you prefer him with or without one, it's hard to look away one you realize it.
Editor's Note: The Instagram post has since been deleted.
Viall could have been given the role of a Prince Charming or something a little more glamorous, but that would have been far too easy. And after Viall and Peta Murgatroyd got to do a sexy rumba, so it was only natural to give him a lighter role to play during his jazz number this week.
According to Viall, it has been a year and a half since he's gone clean shaven, which is kind of a big deal. Then again, being the Bachelor means looking the ruggedly handsome part, so there wasn't really room for smooth chins and non-rosy cheeks. Even though it was weird to see that Viall shaved his beard for Week 5 of DWTS, his performance with Murgatroyd was probably one of their best yet, so maybe it's good luck for him to go clean shaven?
After Viall's performance as Pinocchio with the song "I've Got No Strings", Julianne Hough said that each week he improves and gets better and better. So if he and Murgatroyd can stay on past their possible Week 5 elimination, he'll likely continue on that path of growing stronger as a dancer.