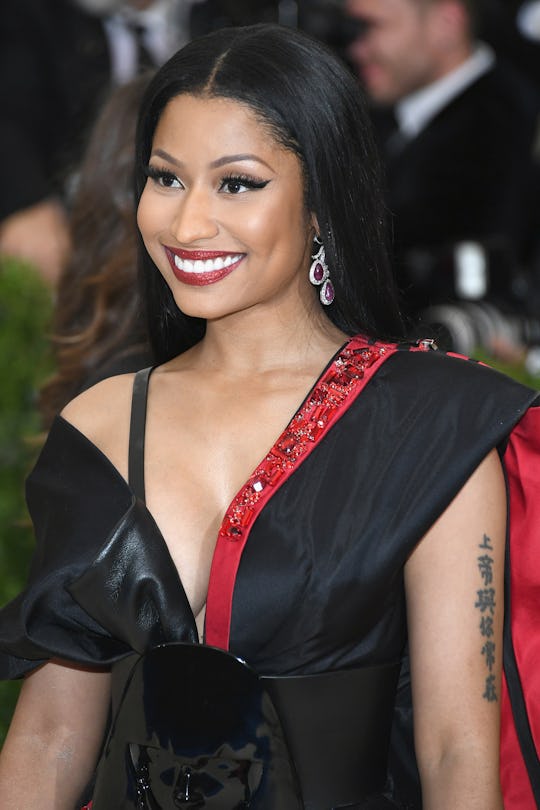 Dia Dipasupil/Getty Images Entertainment/Getty Images
Actual Goddess Nicki Minaj Announces Education Charity
If you're struggling with student loan debt or wondering how you'll pay for tuition this year, you may find help in unexpected places coming up soon. On Friday, after paying off several fans' student loans and university payments, Nicki Minaj announced the upcoming launch of her official charity for tuition and loan assistance, suggesting that the rapper is far from done with helping fans out with the high cost of education. Given how steep that price tag is these days, it's welcome news.
It all started when Minaj announced a contest that would let one lucky fan join her at the Billboard Music Awards or in her studio for an evening. Writing about the contest, Minaj tweeted, "And YES! All countries are included. Ya muva makes enough money to fly members of #TheKingdom out from ANY COUNTRY IN THE WORLD!!!!"
When a fan tweeted a response asking for Minaj to pay her tuition instead, she probably didn't expect an answer. However, within minutes, Minaj tweeted, "Show me straight A's that I can verify w/ur school and I'll pay it. Who wants to join THAT contest?!?!"
Pretty much everyone did, apparently. By the time Minaj was through with her Twitter-powered donation spree, she was putting $30,000 towards fans' school supplies, tuition, and loans, according to the Huffington Post.
We all know that doing good makes you feel good, and Minaj is no exception. On Friday, she updated followers on Instagram with a screenshot detailing payments she'd made for several students, and she captioned it with her announcement.
"This makes me so happy," Minaj wrote. She continued:
I'll do another impromptu payment spree in a month or 2 but pls know that I'm launching my official charity for Student Loans/Tuition Payments VERY SOON! You'll be able to officially sign up! I'll keep you posted!
Minaj is the second celebrity in recent weeks to announce a program that benefits students. To celebrate the one-year anniversary of Lemonade's release in April, Beyoncé announced a Formation scholarship that will help send four talented women to prestigious arts universities this year. Whether Minaj and Beyoncé's efforts will help kickstart a trend that gets celebrities funding education programs remains to be seen, but their initiatives definitely deserve praise.
If you're an A-student stuck with a pile of debt, struggling to pay tuition, or unable afford those textbooks you need to buy, keep an eye on Minaj's social media. It looks like she'll be going on that second "impromptu payment spree" soon, and there should be more information emerging on her official charity in the coming weeks. Here's to hoping Minaj will have a few more students crying in gratitude soon!