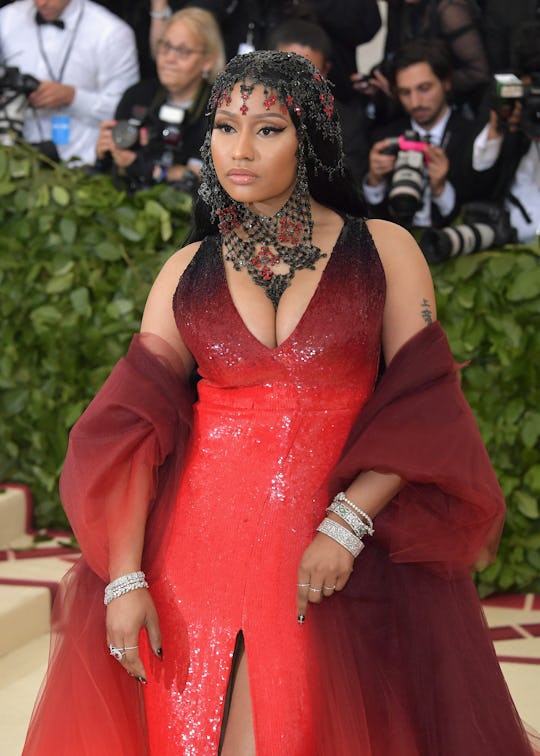 Neilson Barnard/Getty Images Entertainment/Getty Images
Nicki Minaj Thinks Kylie Jenner & Stormi Are To Blame For Her #2 Album
Nicki Minaj may be used to topping the charts, but thanks to the continued success of Travis Scott's Astroworld, the rapper had to settle for second place this week when she debuted her new album, Queen. But it doesn't exactly sound like she thought Scott was playing fair: Nicki Minaj is blaming Kylie Jenner and Stormi for her #2 album, according to E! News, and she's basically argued that Scott's new album wouldn't have been nearly as successful if it weren't for his partner's popularity.
There's no question that Jenner's massive following has to be at least somewhat of a boost for Scott's career, but could it really have been enough to keep Minaj from taking what she claims would have been a rightfully-earned number one? The answer is... actually quite complicated. For one, chart rankings are not just about album sales alone — part of Scott's sales success can be linked to the sale of tour merch and album bundles, which also gave fans "presale ticket access to a future Travis Scott headline tour," according to his website. But according to Minaj, Scott likely wouldn't be topping the charts if Jenner hadn't recently posted a link on Instagram to Scott's tour page, along with a caption suggesting that she and Stormi would soon be accompanying him on tour.
In a tweet, Minaj essentially claimed that Scott's sales numbers were basically inflated thanks to the fact that he sold "over 50K" Astroworld Season Passes, which offered fans "priority venue entry [and] future discounts," according to his site, but not actually a concert ticket. And she also seemed to think Jenner's post was a bit of a gimmick, too. In a follow-up tweet, Minaj said, "I put my blood sweat & tears in writing a dope album only for Travis Scott to have Kylie Jenner post a tour pass telling ppl to come see her & Stormi."
Jenner's post likely also contributed to Scott's success selling tour merch — Minaj wrote that Scott had "sold 200K in his first week of clothes alone," and that he'd even admitted to her that "he's been selling clothes [before] the music." And though he certainly wouldn't be the first to capitalize on creative marketing techniques to try and top the charts (many artists, including Minaj, "have offered their fans merchandise/album and ticket/album packages" according to Vulture), it's pretty clear that Minaj definitely feels less than pleased that the public's continued obsession with all things Kylie Jenner may have meant she's had to take a backseat on the Billboard chart.
Yet Jenner's Instagram game isn't the only thing causing Minaj some major frustration these days: the rapper also called out Spotify for reportedly trying to "teach her a lesson" by pulling promised first-day promotion after she played Queen on her Apple Radio show prior to its Spotify release — something she said was actually entirely unintentional on her part. And she also claimed her label refrained from pushing back, just in case Spotify also opted to punish Minaj's label-mate, Ariana Grande (Spotify did not immediately respond to Romper's request for comment).
In the end, Minaj insisted that she's still grateful for Queen's success and for her fans' support, and later wrote that her tweets were "sarcasm/dry humor," not anger. But even if she were joking, she still made a point to note that what she'd faced wasn't entirely unique: Minaj wrote, "Do you know how many women get systematically blackballed out of their positions in an office building & can't fight back?????"
Jenner, for one, hasn't responded to the controversy, and it doesn't exactly seem like she intends to. And honestly, Minaj's beef with Jenner seems to be part of a much bigger issue about sales metrics and streaming than it is about the makeup mogul herself. Judging by the reaction from her fans though? It's clear that, no matter what the numbers say, Minaj's Queen is still absolutely number one to them.