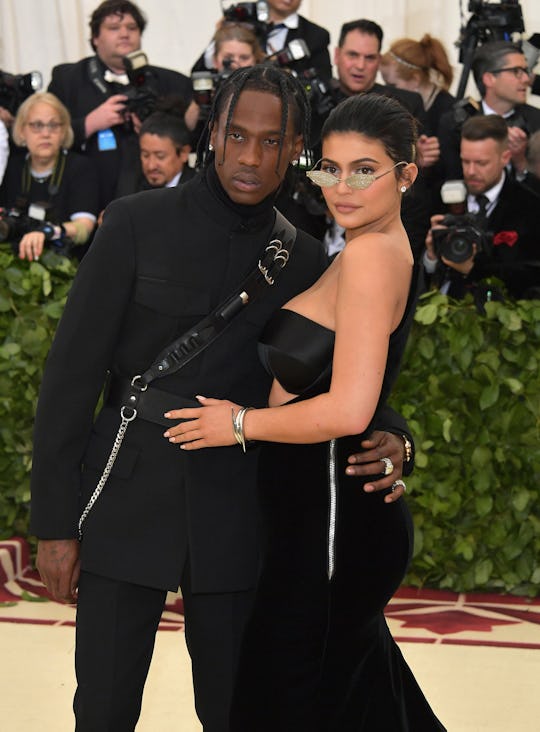 Neilson Barnard/Getty Images Entertainment/Getty Images
Kylie Jenner & Stormi Might Be Hitting The Road With Travis Scott
Rapper Travis Scott recently dropped his latest album, Astroworld, earlier this month, and now he's gearing up to hit the road for the first leg of his tour. The actual dates are still yet to be announced, and it sounds like additional cities will also be added, but judging from Kylie Jenner's recent Instagram post, it seems that at least *one* major detail may have already been decided on. Is Kylie Jenner taking Stormi on tour? On Thursday, Jenner posted a promo image for the Astroworld: Wish You Were Here Tour, and wrote, "me and storm ready for tour," along with a link to the merch page on Scott's website.
The 21-year-old makeup mogul hasn't actually elaborated on Scott's tour plans, but it's also not exactly surprising that the new family-of-three may be set to hit the road together in the coming months. The couple became parents in February after welcoming baby Stormi, and it seems pretty clear that their whirlwind love story was a big inspiration for Scott's new release: according to E! News, he makes multiple references to Jenner and Stormi on Astroworld, and in an Instagram post on the day the album was released, Jenner wrote, "Astroworld just dropped and it's the craziest ride of my life."
Editor's Note: The Instagram post has since been deleted.
Of course, as stressful as it might seem to think about bringing a 7-month-old on tour, it's just what has to happen if they want to avoid spending a ton of time apart due to Scott's work commitments. And while Scott likely wants to still see as much of his infant daughter as he can while he's on the road, it definitely seems like time apart would be hard for the super-in-love couple, too. In addition to being spotted snuggling at Jenner's lavish, celeb-filled 21st birthday party, Scott and Jenner were also said to have piled on the PDA at his Astroworld listening party in Chicago, according to Harper's Bazaar. And in July, the couple gushed about their relationship in a joint interview with GQ, sharing their nicknames for each other and their daughter, and telling the mag that they "go the extra mile to keep [their] relationship super private."
In fact, in her latest impressive achievement — her very first Vogue cover — Jenner opened up about her relationship with Scott in a cover interview conducted by her sister, Kendall Jenner, and made a point to clear up an online rumor that she and Scott weren't actually living together. The truth? Kylie said that she and Scott not only "go back and forth" between their two homes," they actually "never miss a night with each other" (which also seems like good motivation to want to bring your baby on the road with you!).
In the interview, Kylie also chatted with Kendall about the impact that becoming a mother had had on her, and said that having a daughter specifically has "made [her] love [herself] more," and accept the things she may have been insecure about in the past. As for her take on Scott as a dad? Kylie said she loves "just watching him with her," and added, "he's so good with her and she's really obsessed with him."
Living life on the road with a baby isn't exactly something many parents experience, but then again, Kylie and Scott don't seem like they'd have a ton in common with the average couple anyway. And given that they always seem to be able to remain so supportive of one another regardless of the circumstance, it seems pretty safe to say that they'll definitely figure out a way to make going on tour as a family work for them.