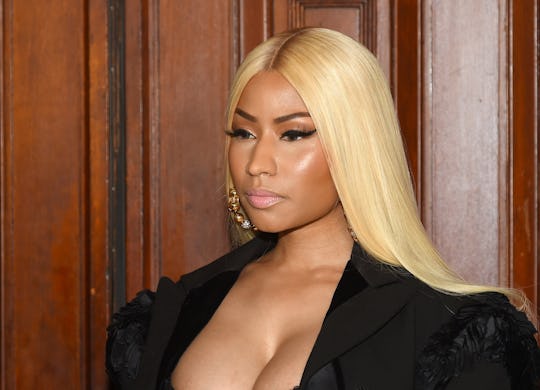 Ben Gabbe/Getty Images Entertainment/Getty Images
Nicki Minaj Addresses The Border Separations In An Emotional Instagram Post
This week, all that many Americans can think about are the horrific family separations that have been happening at the nation's border. A slew of celebrities have commented on the news on social media, hoping to raise awareness and funds to help the displaced children. The latest influencer to comment is Nicki Minaj, who has a lot of experience with illegal immigration. In an Instagram post on Wednesday, Nicki Minaj opened up about immigrating to the United States as an undocumented 5-year-old.
"I came to this country as an illegal immigrant @ 5 years old," Minaj, 35, wrote on Instagram, alongside the widely-shared photo of displaced children sleeping on mats underneath foil blankets. "I can't imagine the horror of being in a strange place & having my parents stripped away from me at the age of 5. This is so scary to me. Please stop this."
She then urged people to imagine how scared the displaced children must feel. "Can you try to imagine the terror & panic these kids feel right now?" the rapper continued. "Not knowing if their parents are dead or alive, if they'll ever see them again... 🇺🇸."
Minaj was born in Saint James, a district of Port of Spain, which is the capital city of Trinidad and Tobago, in 1982, according to Biography.com. She and her family moved to Jamaica, Queens, in New York City when she was five, Rolling Stone reported. Minaj opened up about immigrating to the United States in her MTV documentary My Time Now in 2010, noting that she lived with her grandmother before her mother was able to join her. She said in the documentary, according to MTV:
A lot of times, when you're from the islands, your parents leave and then send for you because it's easier when they have established themselves; when they have a place to stay, when they have a job. I thought it was gonna be for a few days, it turned into two years without my mother.
She also called herself a "proud immigrant" on Twitter back in January 2017, after Trump signed an executive order known as the Muslim ban. She tweeted:
The most harmful thing you could ever take away from another human being is hope. #ProudImmigrant #Grateful #TaxPayerButIcantVote #America
Many other celebrities have opened up about the family separations this week. Cardi B urged her followers to call their representatives to ask them to end family border separation:
"This is our solution in handling immigration?" Jada Pinkett Smith wronte on Instagram. "Has history taught us nothing? My heart is screaming."
Director Ava DuVerney suggested her followers imagine being in the shoes of one of the displaced children. She tweeted:
I look at myself as a girl and imagine having to travel unsafely in a quest for safety. Be forcibly separated from my mother. Caged with people I don't know and who don't know me. Alone in a world I don't understand. Imagine this for the child you were. We cannot allow this.
Mindy Kaling urged people to donate to the ACLU. "As a mother and a daughter of immigrants, I am heartbroken about children being separated from their families at America's borders," she wrote.
Lin-Manuel Miranda told followers to "Bear witness. Keep fighting. Keep making noise."
Following public outcry in response to the reported thousands of children separated from their undocumented parents at the border, President Trump signed an executive order on Wednesday, meant to protect undocumented parents and kids from being separated at the border, CNN reported. "It's about keeping families together, while at the same time being sure we have a very powerful, very strong border." Trump said on Wednesday, according to CNN. While it seemed like good news at first, it quickly became clear that Trump's executive order simply replaces family separation with the detention of entire families together, NPR reported.
To help the victims of family border separation, click here for some ideas.