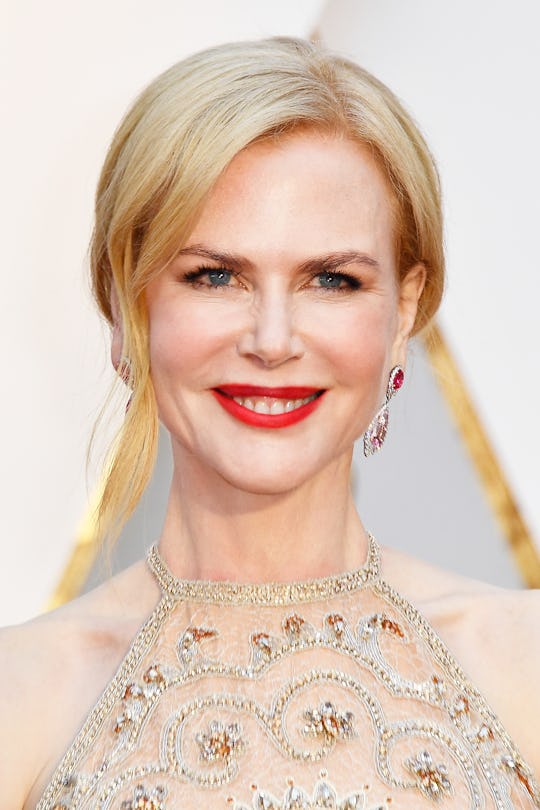 Frazer Harrison/Getty Images Entertainment/Getty Images
Motherhood Takes The Spotlight At The Oscars
For what it's worth, this year's Oscars ceremony, while not perfect, is doing a little bit better job at rewarding more diverse films than in years past — and the actors behind those films Sunday night offered up plenty of healthy dialogue as well. Nicole Kidman's comments about Lion and motherhood, for example, are a testament to all the different sorts of stories that were told through film this year — mothers and children from all walks of life specifically, in Kidman's case.
Kidman said on the ABC red carpet that the movie is "a love story for mothers to children, because I think it's about finding home and sometimes you find mothering in many different places. Birth mothers, foster mothers, people who just love mothering other people. This film just speaks to mothers."
Kidman is nominated for Best Supporting Actress for her role in the film, and although she's right that it was all about motherhood — the celebration of the film on the red carpet was seriously all about Dev Patel, who is nominated for Best Supporting Actor, and the tiniest co-star in the whole world, 8-year-old Sunny Pawar, who stole the whole pre-show, even though he wasn't nominated separately for the film.
The film was also nominated for Best Picture, so Pawar, Patel, and Kidman had a few chances to shine on Sunday. Pawar walked the carpet with swag and even got to meet Chrissy Teigen, who broke away from husband and Oscars performer John Legend to give the little guy a huge squeeze. If Lion doesn't win any awards at all, the whole cast should be happy to know that they still dominated the whole evening.
Lion is based on a true story and you can see why it touched Kidman, who also adopted two children with Tom Cruise back when they were together. She told The Guardian earlier this year that she hoped she could bring some of her own experience into the role and show that she and her character, Sue, have a lot in common. As do all women who know that they want to be mothers one day. "It's a vision," she said.
Speaking about her experience as an adoptive mother, she said that she knew the minute she met them that biology has nothing to do with motherhood. "Because you're all intertwined. Your destinies somehow all come together," Kidman added.
Whatever she brought to the role certainly worked, given all of the nominations and love people have for Lion.