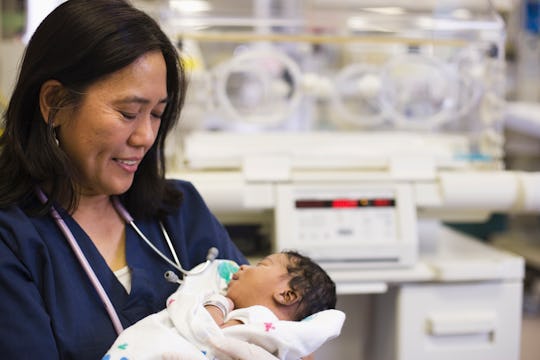 ER Productions Limited/DigitalVision/Getty Images
Here Are 21 Sweet & Meaningful Gifts For NICU Staff Recognition Day
Everyone wants a perfect birth: You'll go into labor, and within a few pushes, give birth to a healthy and beautiful baby who you'll snuggle with and take home in a couple of days. The reality, however, is a bit more complicated; with many babies spending time in the hospital's Neonatal Intensive Care Unit (NICU) before they can go home. If you're looking express your gratitude towards the men and women who care for your baby when you can't, these 21 gifts for nurses for NICU Staff Recognition Day will be deeply appreciated.
Unless your baby has been in the NICU, you can't really begin to understand what the staff there will come to mean to you. They become family. You know their names well, better than some of your far-flung relatives. They hold your hand and talk you off the ledge when you feel such guilt for your child being in the NICU — even though it's not your fault. They don't raise an eyebrow when you struggle to change your newborn's diaper due to so many wires being attached to them. You are bonded together by your one shared goal: to get your baby well and get them out of the NICU so that you can go home and life (which has been in a weird limbo up until now) can truly begin. In short, the NICU nurses and the entire staff are an interesting mélange of tough warriors and tender-loving angels to their little charges.
So in honor of NICU Staff Recognition Day (September 28), you can give the NICU staff (from nurses, social workers, and receptionists, to the custodial staff and security guards) a present to honor everything they do for their littlest patients.
We only include products that have been independently selected by Romper's editorial team. However, we may receive a portion of sales if you purchase a product through a link in this article.