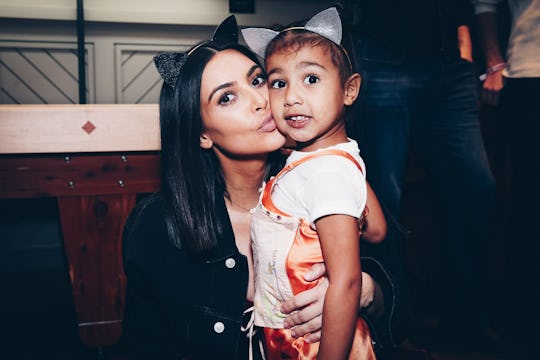 Handout/Getty Images Entertainment/Getty Images
These Are All The Ways North West Proves She's A True Gemini
If you have a Gemini in your life, you know what this entails. One of my sons is a Gemini, and if he's reading this, I love you sweetie and I promise your mood swings are super charming. Truly. Kim Kardashian West definitely knows a little something about what I'm talking about. Her oldest daughter, North West, is so clearly a Gemini that I can truly empathize.
Not that there's anything wrong with being a Gemini; quite the opposite, in fact. According to Astrology.com, Geminis are "Expressive and quick-witted. Gemini represents two different personalities in one and you will never be sure which one you will face. They are sociable, communicative and ready for fun, with a tendency to suddenly get serious, thoughtful and restless." All of this sounds just grand, doesn't it? But, as with all astrological signs, there tends to be a negative to go along with every positive. Probably because we're all human beings with loads of different feelings. But I have to say, looking through Gemini character traits, I can definitely see how 5-year-old North West, the oldest child of Kim Kardashian West and Kanye West who was born in June 2013, is a real little Gemini. Not that we're friends or anything... but sometimes you just know, you know?
Here's the evidence.
Close To Her Dad
North isn't the only Gemini in the Kardashian West clan. While her 2-year-old brother Saint was born in December 2015 and her baby sister Chicago was born in January 2018, North shares her astrological sign with her dad, Kanye West, which is why she would naturally idolize him, according to Today. And mom Kim Kardashian West has said in the past the father and daughter are super similar. As she told People in 2017:
She's really, really smart, actually. She knows how to outsmart us — of she thinks she does. But she is Kanye's twin. Same personality, says the same wild things. Those two…
Although that being said, Kim Kardashian also told Entertainment Tonight recently that North has that whole Gemini twin thing going on as well:
She's a Gemini, so she's a little bit of both me and Kanye. She definitely has Kanye's outgoing personality and will say what's on her mind no matter what it is and who it might offend.
Hot-Tempered
Another element of the Gemini personality is being a bit hot-tempered, and North West is no different. Her mom has openly lamented how mean she can be to her little brother, and the paparazzi has caught the poor kid in more than one temper tantrum over the years. Although to be fair, can you blame her?
A Real Charmer
According to Trusted Psychics, Geminis are intensely charming people for the most part. And North West is a pretty charming little kid, if her recent interview with Kaia Gerber for Interview magazine is anything to go by. She was hilariously candid about her life in the interview, according to Elle, telling Gerber that she adores cheese and that she always carries a purse full of toys wherever she goes. Considering the massive following both of her parents enjoy in their careers, this could mean big things down the road for this little Gemini.
All About Family
Geminis are generally very loyal to their family, and considering North also has the added benefit of being a member of arguably one of the most famous families in the world, it's no great shock that she's close to her family. Especially her 5-year-old cousin, Penelope Disick, daughter of Kourtney Kardashian and Scott Disick. The two cousins recently shared a unicorn-themed birthday party to celebrate turning five, and are frequently seen together on various Kardashian Instagram feeds.
In other words, North West is a sassy, charming, sweet kid who loves her family. If that's what it means to be a Gemini, it doesn't seem so bad to me.