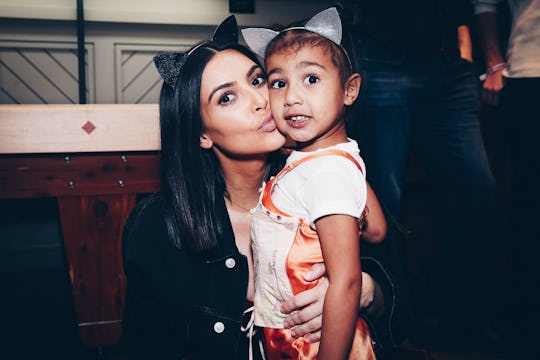 Handout/Getty Images Entertainment/Getty Images
North West & Penelope Disick's Unicorn Birthday Party Is What Dreams Are Made Of
The great thing about kids' birthday parties? As chaotic as they can be, it usually doesn't take a whole lot to make them awesome. Grab a sugary cake, a pizza, and play a few party games, and chances are you'll have one very happy birthday boy or girl on your hands. But when your mom's last name is Kardashian? You're definitely going to get a party that is on a whole different level. On Sunday, North West and Penelope Disick had a unicorn birthday party to celebrate their upcoming 5th and 6th birthdays, and it was over-the-top in the very best way.
To be fair, it's probably hard to find a 5- or 6-year-old girl who doesn't want a unicorn birthday party at the moment, and it's meant that Pinterest has basically become an endless repository for colorful, rainbow-themed party inspiration. Yet North and Penelope's fete was pretty much a master class in unicorn birthdays: not only did their flower-and-balloon-filled party feature an impressive spread of unicorn-inspired treats, according to E! News (think two gorgeous, candy-filled rainbow unicorn cakes, along with a spread of unicorn doughnuts and cookies, and even cake pop ice cream cones decorated with unicorn faces), they also got to swim in a pool filled with rainbow cloud floaties, and had 10-year-old DJ Livia providing the entertainment.
And, oh yeah, there were also actual "unicorns." The girls and their friends had a chance to ride ponies that were dressed up with unicorn horns and glitter, because of course they did:
In other words, North and Penelope's birthday party was basically both cooler and fancier than my actual wedding, and it's seriously impressive. The birthday girls also got appropriately dressed up for the occasion — they wore matching unicorn robes and swimsuits with unicorn-horn headbands — and appeared to have all the swagger of two little girls who are fully aware that their party was the second-most-coveted social event after the royal wedding.
On Instagram, the girls got special birthday shoutouts from Kim Kardashian and aunt Kylie Jenner, while grandma Kris Jenner shared a sweet selfie with her granddaughter Dream on Twitter:
While over on Twitter, fully grown adults had perhaps the one and only appropriate reaction — admiration and jealousy:
Because honestly, unicorn parties will never stop being cool, whether you're turning 5 or 35:
As if that weren't enough, the girls also received some seriously impressive presents. On Saturday, Kim shared that North had actually received not one, but two Alexander Wang handbags as an early birthday gift, according to Us Weekly, including one leopard-print bag worth a cool $750. (Kim called North "the luckiest girl in the world" after she opened her gift, which sounds about right.)
Not only did the party look amazing in itself, it's also proof that the Kardashian fam was somehow able to outdo the girls' previous (super amazing) birthday parties. Last year, the girls enjoyed a joint Moana-themed bash, according to People, while the year before, they celebrated with an "under the sea" party that featured both Disney princesses women dressed as mermaids, according to InStyle.
But even though she may be used to elaborate, celeb-filled celebrations, on her actual 4th birthday, North proved she's still just as happy with some overpriced pizza and a few rounds of skee-ball as every other kid: last June, Kim Kardashian and Kanye West were spotted bringing their kids to Chuck-E-Cheese for their daughter's big day, apparently upon North's request.
In other words, as unusual and crazy as it might be to be the daughters of reality television royalty, it's pretty clear that North West and Penelope Disick are living their very best lives. And honestly? I'm just hoping my own 5-year-old daughter never sees these photos, because I don't really need her to realize that colorful dollar store paper plates and streamers aren't the height of little kid birthday party sophistication.