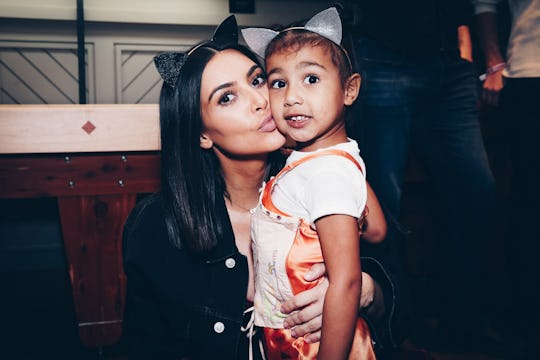 Handout/Getty Images Entertainment/Getty Images
North West Is Having A Blast Putting On Makeup In This Adorable New Video
I remember what it was like to be a little girl and just desperately want to wear makeup. I would sit on the bathroom counter and watch my mom carefully line her lips with a pencil and then fill them in with lipstick so red it looked like it was delicious. It was mesmerizing, and the first chance I got to try it out you can bet I was two fists deep in the face powder. Sure, I was basically Mel Gibson in Braveheart, but it was a blast. All of that came rushing back when I saw North West putting on makeup on her mom Kim Kardashian's social media. That kid was going full rogue and it was utterly delightful.
The 5-year-old daughter of Kardashian and rapper Kanye West looked like she was having a field day on Thursday diving into her mom's makeup. And when you consider the fact that her mom is the owner of KKW Beauty (not to mention she basically reinvented the word contouring), you know that kid has some quality cosmetics at hand. Not that she seemed overly concerned with the quality.
Nope, like any 5-year-old, I have a feeling North West is all about quantity when it comes to her makeup routine.
Kardashian, who is also mom to 2-year-old son Saint and 8-month-old daughter Chicago, captioned the photo "contour queen." So I guess she's happy to pass the reins on to her daughter now.
The proud mom also shared a short video of North sitting in a booster seat wearing some pink lipstick. In the video she asks her daughter, "Are you wearing my new lipstick? I think you're wearing number six from my new collection. Drops Friday. Thanks for being the best model for me." North pretends not to hear the obvious product placement. She's simply above it, I guess.
The Keeping Up With The Kardashians star, who is definitely no stranger to the wrath of mom-shamers on the internet, wrote a quick message to preemptively cut the judgmental mob off at the pass. She wrote on Instagram:
North wearing shade #6 in the new Classic Blossom Collection. Relax Mom shamers it's coming off in a few minutes. I needed a bribe to get out of the door... you feel me?!?!?!
This isn't the first time North has shown a keen interest in makeup and a refreshing lack of concern for how the end result turns out. In 2016, when she was just 3 years old she did her aunt Khloé's makeup, which her aunt shared on Snapchat, according to Allure. Yes, it was utterly adorable.
While North might not have quite finessed her skills as a makeup artist just yet, watch out everyone. The girl has plans, as Kardashian told WWD in 2017:
My daughter watches so many YouTube tutorials and videos and she was unboxing the My Little Pony ColourPop collection and I thought to myself, I wish I was recording this, because her reaction was so funny. And then she did makeup on the My Little Pony that they gave and she said, 'Mom, I want to do a YouTube video.'
I'm sure Kim Kardashian will take some sort of weird heat for letting her daughter play with makeup. But I wish it wouldn't happen. Because I sort of love the fact that Kim Kardashian, a woman who always looks incredibly pulled together, is all about letting her daughter goof around with makeup. And why not? When you're a little kid, makeup is just painting your face, I think. I don't think North is looking in the mirror and wanting to hide anything. I think she just wants to play... and lucky her, she has a mom who gets it.