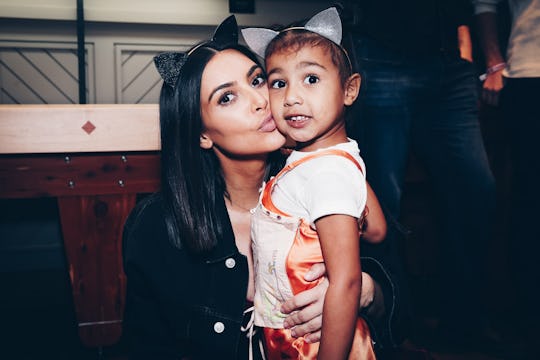 Handout/Getty Images Entertainment/Getty Images
North West Turns Time-Out Into A Spa Break, Naturally
The Kardashian family knows a thing or two about spa days. Say what you will about the famous family (although be nice, on account of they're human beings and such), the Kardashian/Jenner crew treat themselves well. And the next generation is clearly no different. When Kim Kardashian West gave her daughter a time out this week, for example, little North West turned it into a spa break. And now she is my hero.
Because honestly, what are the rules of time out? Quite literally, taking a time out from the world. An escape, if you will, to recharge your batteries and cleanse the negative energy. Now, my own children liked to use their time outs to break toys, write mean notes and turn them into paper planes that periodically flew into my room, or just sort of scream. North West, as the daughter of reality star Kim Kardashian West and Grammy award-winning musician Kanye West, appears to be just slightly more evolved than your average 3-year-old (she turns 4 in June).
According to a post her mom shared on Twitter, North was just "a little too quiet" during a recent time out. When Kardashian West went in to check on her, she had turned her room into a mini spa, and told her mom she was "just chillin'."
While the rest of the Keeping Up With The Kardashians lady clan (Kourtney, Khloe, and Kim Kardashian, Kendall, Kylie, and mom Kris Jenner) have probably experienced a rather elevated version of the spa day, North West was not above improvising. She made herself a little eye mask out of toilet paper, grabbed an oversized pillow, a few towels, and the requisite stuffie and she was ready to unwind.
While North West might have needed a little down time, Kardashian West admitted during an interview on Ellen in April that her daughter is actually far more like dad Kanye West than anyone else. Apparently, the girl has a wild side:
She's really, really smart, actually. She knows how to outsmart us — or she thinks she does. But she is Kanye's twin. Same personality, says the same wild things. Those two …
As a fellow older sister to a little brother (North West is big sister to 17-month-old brother Saint West), I understand her need for a spa day. Sure, mom Kardashian West insisted on Ellen that toddler Saint is "just such a good good boy. Just such a good person." But being a big sister is a tough gig, no matter how sweet your little brother might be. Ditto being the daughter of insanely famous people.
Kudos to North West on her spa day. I'm hoping someone gives me a time out so I can grab one myself.