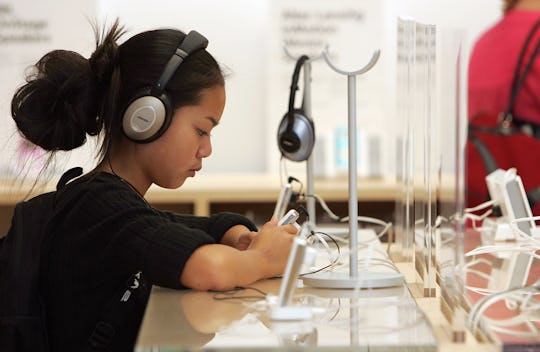 Justin Sullivan/Getty Images News/Getty Images
NPR Has A New Podcast For Kids
As most of us adults know, podcasts are basically the best thing ever. When you're out for a walk, cooking dinner, or just need a moment to unwind sans screens, listening to a good podcast can be just the thing you need. And now, your kids can unwind with a good podcast, too. NPR is launching a podcast for kids, and parents who are worried about the excessive screen time should rejoice.
This is the very first time in NPR's 47 year history the public broadcaster has developed a kid-specific podcast. And it sounds like it's going to be fantastic; Wow in the World is meant to be a program geared to kids from five to 12 looking into the world of "science, technology, discovery, and inventions." Beginning on May 15, Wow in the World will be hosted by NPR's Guy Raz and SiriusXM's Mindy Thomas. The program is meant to shape scientific discoveries and kid-friendly news in a way that manages to be informative but also fun and exciting. Host Mindy Thomas told NPR:
Wow in the World is a place where we can tap into the crazy cool things that are happening all around us, every day! We want to help spark conversations between kids and other kids and also with their grown-ups that will ultimately lead to their own big discoveries.
Real kids are expected to be part of the program as well, taking part in discussions about new scientific discoveries in the world of space, dinosaurs, animals, technologies, and human origins. Each episode will focus on answering questions that, frankly, I would like to have answers for, like, "How do astronauts poop in space?" or "How did we Homo sapiens come to dominate the planet?"
Wow in the World hopes to use a unique blend of comedy and information to keep kids engaged and hopefully, as host Guy Raz noted, away from their screens for even a brief portion of the day.
As parents and caregivers, many of us grapple with screen-time. This show is not just an alternative to screens but a show about celebrating the spirit of inquiry and encouraging kids to ask even more questions.
Rax and Thomas have been hosting an award winning Friday morning program on SiriusXM's Kids Place Live channel called Breakfast Blast Newscast. They are both parents themselves.
It's no secret that kids can seriously benefit from auditory learning; studies have shown that staying focused on listening creates better information retention, and helps them learn to multi-task. This is especially true when kids are learning in a way that manages to be fun and creative. A strategy that Wow in the World hopes to employ.
Wow in the World will be produced by Tinkercast, a family-friendly production company, and distributed by NPR. It will be available to download at npr.org/wow, Apple Podcasts, wowintheworld.com, and wherever else podcasts are streaming.
The tagline for the show is "Eyes up. Screens Down. Jaws Dropped." And I hope they're right.