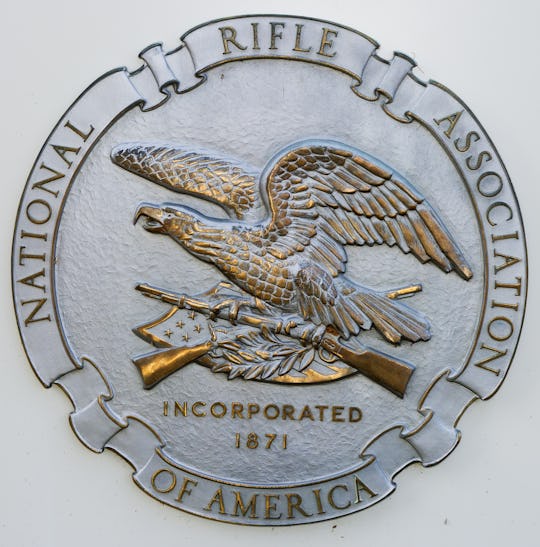 PAUL J. RICHARDS/AFP/Getty Images
NRA Tweets About Kim Kardashian Robbery Are Pretty Insensitive
After news broke that Kim Kardashian had allegedly been held at gunpoint and robbed in her Paris hotel room, social media was abuzz with tweets showing support for the reality television star. But the NRA tweets about the Kim Kardashian robbery were probably the most insensitive of all, turning the traumatic event into a platform to taut their stance on gun reform. In a series of tweets, the National Rifle Association seemed to be taunting Kardashian, who is an outspoken advocate for stricter gun laws.
The organization tweeted, "stronger gun laws… like the ones they have in Paris? #askingforafriend." The tweets snarkily wondered out loud whether the suspects had passed a background check for their firearms or if they had been subject to France's "strict" gun laws.
Once media outlets began reporting on the organization's tweets, the NRA defended themselves, with more tweets, of course. The NRA tweeted that it wasn't hating on Kardashian as much as it was "curious" as to how the suspects had guns in the first place since France has strict gun laws. The organization's point is that they strict gun laws and regulations don't keep people safe, but it was a little insensitive to Kardashian, who was reportedly "hysterical" when she called her husband Kanye West after the incident and quickly boarded a plane from Paris back to New York City. There's a time and place to talk about gun laws, but using the situation to, in a way, taunt Kardashian and gun law reform advocates was a little inappropriate.
The pro-gun organization has every right to an opinion about international gun laws — they matter when it comes to the current debate among American voters and lawmakers about the United States gun laws. But the tone of the tweets was very tone deaf in that it didn't acknowledge how traumatizing the robbery might have been for Kardashian. They were mocking a victim, in a way. It was a little too soon to start eye-rolling about how ineffective the NRA thinks gun laws might be and the presumed inevitability of gun violence.
The organization was not alone in its sarcasm. Earlier in the day, for every supportive Kardashian fan, there was a troll mocking the event. "Five men gagged Kim K and put her in the tub. Are we sure this isn't another raunchy sextape???," one Twitter user joked.
Eventually, Kardashian's friend Chrissy Teigen came to her defense with a series of tweets reminding people that Kardashian didn't in some way have violence coming her way just because she is a celeb. Teigen asked for a little perspective, writing, "Please do not think that I think celebrities are special snowflakes. I just miss empathy, in general, for everyone."
The NRA should have heeded Teigen's advice, too. The sarcastic remarks about gun laws and reform didn't lend anything new or interesting to the conversation surrounding gun laws. Or the organization could've waited a day or two to go on their tweet rant.