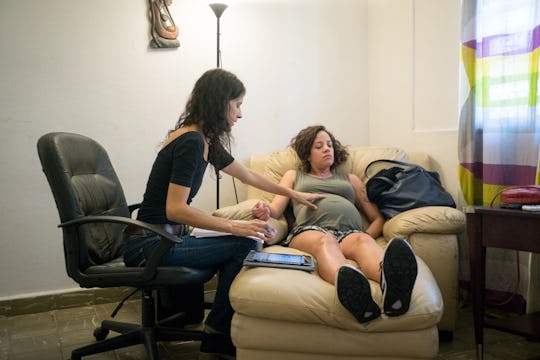 Angel Valentin/Getty Images News/Getty Images
We Now Know How Many U.S. Babies Were Affected By Zika
Winter looks to be well and truly over in most parts of the country, hallelujah. Which means we have the summer to look forward to — longer days, warmed weather, and oh yes, mosquitoes. And with those mosquitoes comes the return of the threat of Zika virus. Much of the country may have experienced a brief reprieve from the virus, but it's about to be back on many parents' minds for one understandable reason: As a recent report detailed the newly-alarming number of Zika-related birth defects in the United States, some parents are justifiably concerned that the number will continue to rise.
According to the Centers for Disease Control and Prevention, one out of every 10 babies born to a Zika-infected mother in the United States in 2016 was found to have congenital birth defects related to the virus. The CDC created a U.S. Zika Pregnancy Registry in 2016 when the Zika virus, which is spread through the infected bite of an Aedes aegypti mosquito or can be sexually transmitted by men, began to spread throughout the country. The registry tracked 972 pregnancies from January 2016 until December 2016. The registry found that 51 of those 972 pregnancies, where a Zika infection was considered likely, resulted in birth defects.
Those numbers climbed even higher when looking solely at pregnant women with confirmed Zika infections; 10 percent of those women gave birth to babies with congenital defects including microcephaly, a condition where the brain does not grow to full size. The CDC's acting director, Dr. Anne Schuchat, told CNN:
We are still learning about the range of birth defects. ... (We've) seen it can cause vision, hearing, brain problems and others.
Schuchat also noted that babies born with birth defects were found to have seizures, trouble with feeding, excessive crying, and difficulty with joint movement.
As disconcerting as these numbers might be, the possibility that more defects could be detected down the road looms large for pregnant women and their babies. The CDC recommends that pregnant women infected with the Zika virus submit to a CT scan or ultrasound that included brain imaging, but it doesn't appear to be happening; Only 24 percent of those babies studied had brain scans. Peggy Honein, chief of the CDC's birth defects branch, noted to CNN:
Because we don't have brain imaging results for most babies (captured by the registry), our numbers may be low. Identifying these babies as soon as possible after birth is important to ensure they receive the best care possible.
Perhaps even more troubling is that the number of babies affected might not be completely known just yet, due to the fact that health issues may manifest themselves later on in the infant's life, and not just necessarily at birth. As The Washington Post noted last November:
A study released Tuesday by the Centers for Disease Control and Prevention provides disturbing new data about a small group of Zika-infected babies in Brazil, who were born with normal-size heads but developed microcephaly five months to a year after birth.
As summer approaches, pregnant women or women who are planning on becoming pregnant will want to be extra vigilant about protecting themselves from potential mosquito bites (for the rest of the population, Zika symptoms are generally mild, and include fever, mild rash, itchy, red eyes, and joint pain). While the Associated Press reported that a Zika vaccine is set to be tested on 2,400 volunteers in the United States over the next few months, the reality is that the warmer months will soon be upon us. And a vaccine is not going to be widely available any time soon.
Until it is, stay safe.