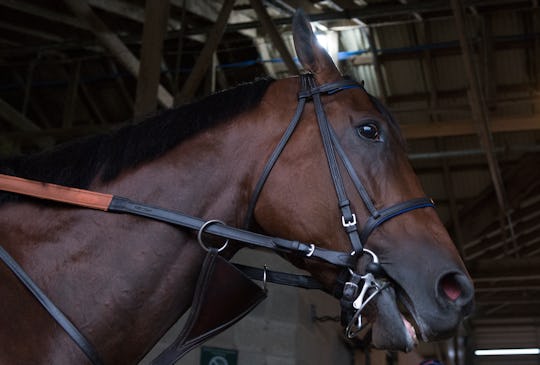 Dylan Buell/Getty Images Sport/Getty Images
Nyquist Wins The Kentucky Derby & Everyone Is Excited
It's never easy to predict who's going to come out ahead at Churchill Downs, but Nyquist won the Kentucky Derby and some experts weren't surprised at all. The colt was many fans' favorite for Saturday's race and he didn't disappoint. Nyquist is the first to go 8-for-8 since 1969 and the eighth unbeaten Kentucky Derby winner of all time. Nyquist was jockeyed by Mario Gutierrez on Saturday afternoon and trained by Doug O'Neill. According to The New York Times, Nyquist was a pick among experts because he "defeated in seven races" and is "the two year old champion."
Conditions were perfect for Derby Day and even the late afternoon storms that were predicted for the evening didn't show up. It was a perfect day for some horse racing and afternoon cocktails. Abby Huntsman was up early gushing about the weather and the day ahead of her and fellow racing fans. She tweeted early Saturday that, "This morning is breathtaking." It was probably even more breathtaking for anyone who's mastered the art of a win wager or a trifecta bet and had their money on Nyquist coming out on top. The main event could score some lucky guessers up to $2 million. Undercard races began early in the day and carried on until around 5 p.m. The Woodford Reserve Turf Stakes takes place right before the Kentucky Derby and carries a $500,000 purse.
Although this year's frontrunners, like Mor Spirit and Mo Tom, Danzing Candy and Cherry Wine, Creator and Exaggerator gave it their all, nothing can beat last year's winner American Pharoah. He was the first horse to win the Triple Crown in 37 years, which mean he won the Kentucky Derby, Preakness Stakes and Belmont Stakes in 2015. Nothing was going to be able to beat American Pharoah, who's now living the lush life in retirement. He's sort of everyone's favorite. One fan on Twitter wrote, "There will never be any horse like American Pharoah. Facts." Another seconded that opinion, tweeting, "No horse will ever compare."
But who knows. This year's Derby winner could go on try their best to beat Pharoah's record at Belmont Stakes and Preakness this summer. It's just not very likely.