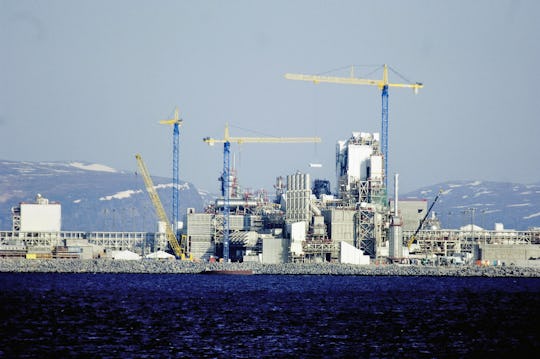 AFP/AFP/Getty Images
Obama Permanently Bans Arctic & Atlantic Drilling, In A Win For Environmentalists
Being an environmentalist can be challenging, particularly when you are the President of the United States. Let's be honest here, recycling and reducing your carbon footprint as an individual takes a level of consciousness not everyone can commit to on a daily basis. So imagine you feel personally responsible for the carbon footprint of a nation. And you're about to leave the Oval Office, and the next guy's take on climate change is, "Pfft. Yeah right." What do you do to make sure you're making a long-lasting difference? Well, if you're President Obama, you permanently ban Arctic and Atlantic drilling using a little known law from the '50s. And you sleep well tonight, knowing today was a win for environmentalists everywhere.
Obama invoked an obscure law called the Outer Continental Shelf Act to prohibit new drilling in federal waters, the Chukchi and Beaufort seas off the coast of Alaska that are home to several species which are soon expected to hit the endangered list like the Pacific walrus, polar bear, and bowhead whale. The ban also covers 4 million acres of the Atlantic from Heezen Canyon offshore New England to Norfolk Canyon offshore the Chesapeake Bay. The ban will protect underwater canyons off the coast of the continental United States, whose coral provides a home for "... deepwater corals, deep diving beaked whales, commercially valuable fishes, and significant numbers of habitat-forming soft and hard corals, sponges, and crabs," according to a statement released by the White House.
Obama was working in partnership with Canadian Prime Minister Justin Trudeau after negotiating for months on how best to manage these large swaths of ocean, as well as how to make the decision as binding and durable as possible. Especially with the Trump Administration about to take office. President-elect Trump has said in the past that climate change was a hoax created and perpetuated by the Chinese government, and with a Republican Congress, is expected to fight Obama's binding decision to ban new drilling. Certainly Obama's decision has already been criticized by detractors.
The American Petroleum Institute also came down hard on Obama's unprecedented move. Spokesperson Erik Milto told The Washington Post:
The administration's decision to remove key Arctic and Atlantic offshore areas from future leasing consideration ignores congressional intent, our national security, and vital, good-paying job opportunities for our shipyards, unions, and businesses of all types across the country. Our national security depends on our ability to produce oil and natural gas here in the United States. This proposal would take us in the wrong direction just as we have become world leader in production and refining of oil and natural gas and in reduction of carbon emissions.
Conversely, environmentalists in both Canada and the United States celebrated the decision to protect over 115 million acres of ocean. World Wildlife Fund CEO Carter Roberts issued a statement applauding the move:
We applaud this bold decision. It underscores our nation's inevitable transition to cleaner energy and signals that some places are just too important not to protect. And with our neighbors, will inspire the world to do likewise.
This action continues a long tradition, starting with Lincoln and Roosevelt, of presidents conserving the best parts of America. This is a big deal – a defining part of our country that's just as important as Yosemite and Yellowstone.
Banning future drilling off the coast of Alaska, Canada, and New England will naturally also go a long way to prevent potential oil spills that could otherwise prove catastrophic to the ecosystem. "These actions, and Canada's parallel actions, protect a sensitive and unique ecosystem that is unlike any other region on earth," Obama said in a statement. "They reflect the scientific assessment that even with the high safety standards that both our countries have put in place, the risks of an oil spill in this region are significant and our ability to clean up from a spill in the region's harsh conditions is limited."
Not a bad day for a president preparing to exit the office.