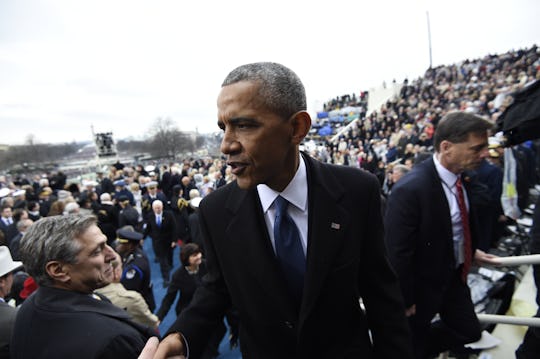 Pool/Getty Images News/Getty Images
Obama Posts Heartfelt Tribute To Chuck Berry
The day after the man who rivaled Elvis Presley as the "king of rock 'n' roll" died at age 90, Barack Obama responded to Chuck Berry's death with a heartfelt tribute. In a tweet, the former president praised the rock 'n' roll innovator as the best in the business. It was an apt send-off from one pioneering, iconic man to another.
"Chuck Berry rolled over everyone who came before him – and turned up everyone who came after," Obama, an infrequent tweeter, wrote in the message. "We'll miss you, Chuck. Be good."
Both in life and in the short time since his death after being found unresponsive in his Missouri home Saturday, Berry has elicited adulations from his peers and admirers alike. Bob Dylan once christened him "the Shakespeare of rock 'n' roll" — he was, in fact, the first guitarist and songwriter of the emerging genre in the 1950s. And in commemorating his life and legacy after his death, legend Bruce Springsteen hailed him as "rock's greatest practitioner, guitarist, and the greatest pure rock 'n' roll writer who ever lived" in a tweet.
In fact, Springsteen was among the scores of performers influenced by Berry's work, which "melded elements of blues, rockabilly and jazz into some of the most timeless pop songs of the 20th century," Bill Trot wrote in an obituary for Reuters. Berry left his mark on other greats like Keith Richards, Paul McCartney, and John Lennon — and, apparently, Obama believes that he transcends them all.
And the feeling of admiration seems to have been mutual. In 2008, when Obama was a relatively young and idealistic senator from Illinois seeking his first term in the White House, Berry pledged his support for the then-candidate. "Definitely a proud and successful moment for all the people of this country, not just black people, but Americans in general," the "Johnny B. Goode" and "Sweet Little Sixteen" singer said of Obama's nomination as the Democratic Party's candidate at the time, according to Reuters "In the '50s there were certain places we couldn't ride on the bus. And now there is a possibility of a black man being in White House."
Four years later, just days before Obama secured a second term in office, an 86-year-old Berry's eyes filled with tears when he reflected on how much the country had changed since he had to play in segregated venues in the South early in his career. "I never thought that a man with the qualities, features and all that he has [could] be our president," he told Rolling Stone of Obama. "My dad said, 'You may not live to see that day,' and I believed him. I thank God that I have."
Obama isn't the only former president whose heart Berry captured. He performed at both of Bill Clinton's inaugurations, and Clinton released a statement stating that Berry "changed our country and the history of popular music." "The man was inseparable from his music – both were utterly original and distinctly American," Clinton wrote. "He made our feet move and our hearts more joyful."
Obama, of course, would undoubtedly agree — as do the scores of fans and contemporaries who are mourning Berry's death and celebrating his monumental, groundbreaking career.