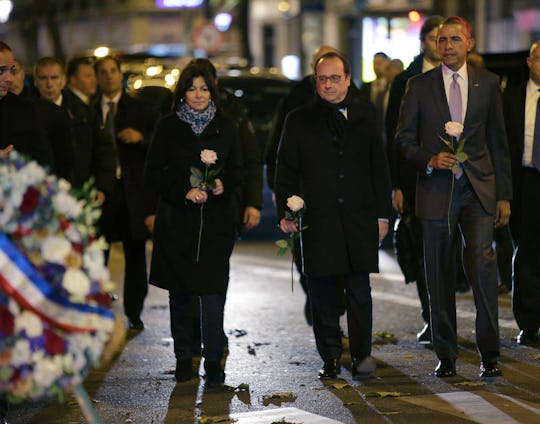 Obama Visited The Bataclan In Paris, & It's A Reminder Never To Forget
When he landed in Paris late Sunday night for the European COP21 summit on climate change, President Obama made a stop on the way to his hotel. A little after midnight local time, Obama visited the Bataclan nightclub, the music venue where ISIS terrorists killed over 80 people and took multiple hostages Nov. 13 as part of a coordinated attack on Paris. Altogether the shootings and suicide bombings in Paris killed 130 people and injured hundreds more. An estimated 89 of those killed died at the Bataclan when gunman with Kalishnikovs and suicide belts interrupted an Eagles of Death Metal concert.
After his arrival at Orly airport Sunday night, Obama's motorcade made an unannounced stop at the Bataclan to pay his respects. French prime minister François Hollande and Anne Hidalgo, the mayor of Paris, met him there, and each placed a single white rose in front of the venue. Then Obama "stood in silence with his head bowed and his hands clasped in front of him," according to the BBC. Afterwards, the three leaders walked away together, Obama with his arms around the others.
The Bataclan is a not-tiny-but-not-huge venue with a capacity of 1500 (approximately the same size as New York City's Webster Hall, if you've ever been). It hosted a whole range of acts, reportedly ranging from the Deftones to Young Thug. While the members of Eagles of Death Metal escaped safely, young fans who attempted to hide from the terrorists in the band's dressing room mostly did not.
Photos depict Obama's visit as a solemn and dignified show of mourning and solidarity with the French. It was also a way of communicating that the events of Nov. 13 won't be forgotten, even as world leaders' agendas get crowded with other issues.
Close to 150 world leaders are expected to attend the COP21 summit this week in Le Bourget, just outside Paris, along with a reported 40,000 delegates from 195 countries. The topic is climate change, and the goal is to walk away with an agreement to limit carbon emissions around the globe.
Images: PHILIPPE WOJAZER/AFP/Getty Images