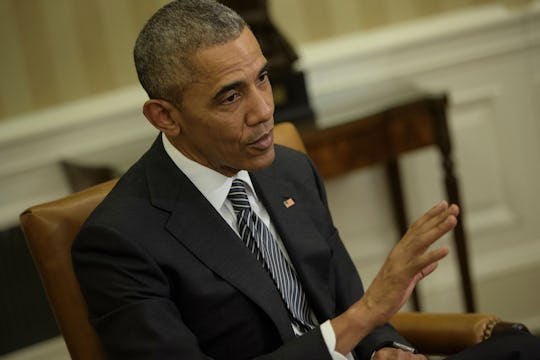 BRENDAN SMIALOWSKI/AFP/Getty Images
Obama's Comments On Zika Prove That Congress Needs To Act Now
According to the Centers for Disease Control and Prevention, there have been 591 cases of Zika reported in the continental United States this year, with data current as of May 25. While that only represents 0.000001 percent of the current U.S. population, President Barack Obama has called on Congress to allocate $1.9 billion in emergency funds to fight the spread of the Zika virus in the United States. Since early 2016, Obama's comments on Zika have reiterated the distinct threats that the United States could face from the mosquito-borne illness. Obama has acknowledged the threat to pregnant women and their babies that Zika poses, including microcephaly in newborns, as well as the possible development of Guillain-Barré Syndrome in adults.
With such urgency from the president, how has Congress responded to Obama's request? In a word, poorly. Obama said in a May 19 press briefing that the House had only approved $622 million in funds to fight Zika — only one-third of what he had asked. Obama continued, according to CBS News:
Congress needs to get me a bill. It needs to get me a bill that has sufficient funds to do the job. They should not be going off on recess before this is done.
Here are five other comments Obama has made this year about Zika crisis facing America.
"Ensure that all Americans have information about the Zika virus."
On Jan. 26, Obama held a briefing on the Zika virus with leaders of his health and national security teams. This was still very much in the early days of the Zika epidemic as news streamed in from Brazil about the devastating effects that Zika has had on babies born with microcephaly in that country. Armed with the knowledge that it was only a matter of time before Zika migrated north to the United States, Obama "emphasized the need to accelerate research efforts" as well as making sure Americans are informed about the virus.
"My foremost priority is to protect the health and safety of Americans."
In a Feb. 22 letter to Congress, Obama requested $1.9 billion in emergency funds to fight Zika. His letter described a plan for how those funds would be used in the country's efforts to stop the spread of Zika and included everything from first response preparedness to vaccine research to increased federal Medicaid funding for pregnant women who are at risk for or have been infected with Zika.
"A more immediate, significant concern is Puerto Rico."
At Obama's Zika briefing on May 19, the president spoke of the fact that there were over 800 cases of Zika reported in the U.S. territory of Puerto Rico, posing a significant public health concern. Obama also noted that the number of Zika cases in Puerto Rico may actually be significantly higher, as many people who are infected show no symptoms.
"This is something that is solvable."
Obama closed his remarks to the press on May 19 with a positive outlook, continuing, "It is not something we have to panic about, but it is something we have to take seriously." The president further reiterated the fact that he was hoping Congress would have already sent him a bill to sign by now, but so far, the House and Senate have put forth bills that fall quite short of the $1.9 billion that the president and his public health advisors have assessed are necessary to effectively combat Zika.
"Tell your members of Congress to get on this."
The only thing standing in the way of the nation's preparedness for Zika is a bill from Congress that adequately address the threat, but so far, they're handing the American people peanuts. The Senate has put forth a bill that only allocated half the funding requested by Obama, while the House bill only funds one-third of that request — and pulls that money from funds set aside to fight Ebola. As Obama put it, the House bill "robs Peter to pay Paul."
So what can we do to prevent an outbreak of Zika in our country? Besides dousing ourselves in EPA-registered insect repellants this summer and stocking up on condoms, Americans should contact their members of Congress pronto to tell them that the time to fund the fight against Zika is now.