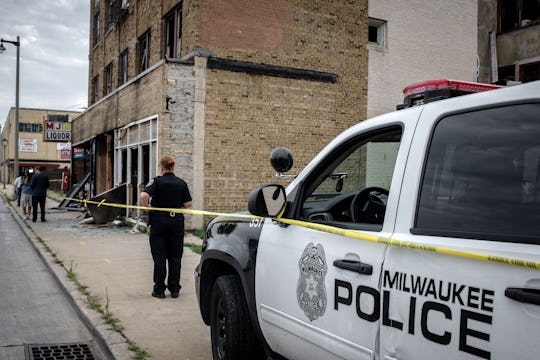 AFP/AFP/Getty Images
Officer Who Shot Sylville Smith Has Been Accused Of Sexual Assault
It was always going to be a difficult case. An officer fatally shooting a black man at a time when tensions are high. People protested, and riots ensued in Milwaukee. Now here is where it gets even worse: That same officer who shot Sylville Smith has been accused of sexual assault, and the victim claims the assault happened while the pair were watching the protests for Sylville Smith on television.
According to CNN, the victim claims the assault happened in the early morning hours of Aug. 15. Officer Dominique Heaggan-Brown had fatally shot Sylville Smith just two days earlier in what police said was a lethal altercation at a traffic stop. On Aug. 15, Officer Heaggan-Brown had allegedly been drinking heavily at a bar with his accuser watching the Sherman Park protests spurred on by Smith's shooting.
After their night of drinking, the accuser claimed that Heaggan-Brown took him back to his house and allegedly raped him. After the alleged assault, Heaggan-Brown reportedly took the man to the hospital and told a nurse the victim was behaving "weird and unresponsive" back at the bar. Heaggan-Brown also told hospital security workers that the man was "completely out, zonked out of his gourd" from drinking too much.
The victim's memory of leaving the bar was hazy, and he told authorities that he felt he had been drugged. When the victim woke up in the emergency room and saw Officer Heaggan-Brown he told hospital workers that he had been raped. According to authorities, Heaggan-Brown then allegedly texted a mentor of his, Sgt. Joseph Hall, to say that he had "messed up big time" and asked Sgt. Hall for his help.
"Need your help big time," he reportedly wrote. "... But need to handle this the most secret and right way possible."
Authorities investigating the claim found evidence that determined he had allegedly offered two other people money for sex and assaulted another unconscious person in July, reportedly taking pictures of the person he assaulted without their consent. He has been charged with two counts of second-degree assault, as well as three other charges relating to past occurrences. Milwaukee police chief Edward A. Flynn has called the situation "extraordinarily disappointing." In a briefing on Thursday, Flynn went on to say:
It's altogether awful, It's grave and we're treating it as such.
Officer Heaggan-Brown has since been suspended from the police force, and remains in custody on $100,000 bail. If he is convicted on all counts, he could spend up to 80 years in jail. He is 24 years old.