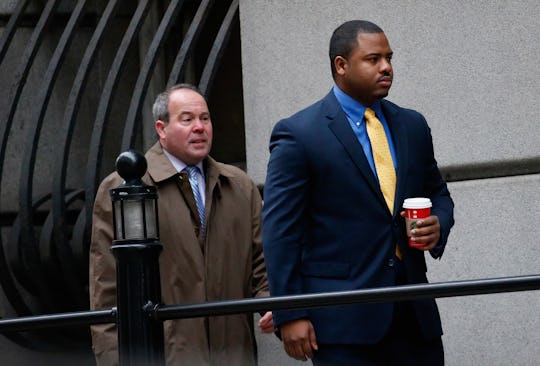 Officer William Porter Might Not Testify In Other Freddie Gray Trials, Appeals Court Decides
A Maryland Court of Appeals on Friday stayed Officer William Porter's testimony in the trials of other officers involved in the arrest and death of Freddie Gray, according to a tweet from WBAL Baltimore. This means that the court will hear arguments from Porter's lawyers that may keep him from testifying at all. A previous order compelled Porter to testify in the trials of Officer Caesar Goodson Jr., who was driving the police can Gray was placed in, and Sgt. Alicia White, according to CNN.
The order on Friday will stay the previous order, meaning Porter will not have to testify until the Maryland appeals court hears his lawyer's arguments. Maryland Court of Special Appeals Chief Judge Peter B. Krauser, in a two-page order, said prosecutors in the case will need to respond to Porter's defense attorney's, thus he stayed the previous court's order, according to the Baltimore Sun. In the meantime, Goodson's trial will not be postponed, and jury selection for it is supposed to behind Monday.
Porter had previously told the Baltimore Sun that he would invoke his Fifth Amendment right against self incrimination in order to avoid testifying. His lawyers argued that, should Porter be forced to testify, prosecuting attorney's in the state may use parts of his testimony against him in his retrial in June.
Though the argument makes sense, there is already an existing law in place that prevents attorneys from using something said in testimony against someone in their own, separate trial, according to CNN.
Gray died of a neck injury related to a severed spine — both injuries he sustained while in police custody in April, according to CNN. Porter faces charges of involuntary manslaughter, second-degree assault, reckless endangerment, and misconduct in office, according to the Sun. His previous trial ended in a mistrial in December when the jury couldn't make a unanimous decision. Goodson, the van driver, faces the most serious charges of the six officers being charged in Gray's death. He is charged with second-degree depraved heart murder, manslaughter, second-degree assault, and misconduct in office, according to the Sun. All of the officers have pleaded not guilty.
Protests erupted after Porter's mistrial, so it's probably safe to assume that if Porter isn't forced to testify, Baltimore citizens and Black Lives Matter activists will not be happy about it.
Image: Rob Carr; Molly Riley/AFP/Getty Images News