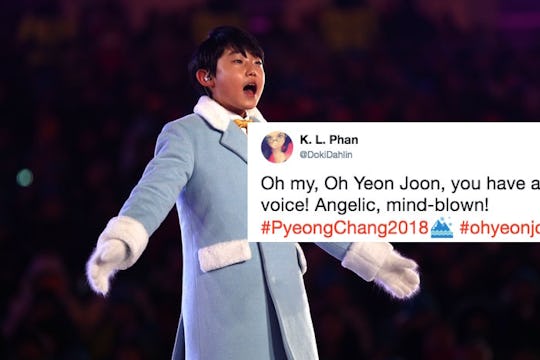 Dan Istitene/Getty Images Sport/Getty Images
This 11-Year-Old Boy's Angelic Voice At The Closing Ceremony Has Twitter Totally In Awe
The 2018 Winter Olympics in PyeongChang, South Korea, introduced people from all around the world to brand new cultures, customs, and traditions that they might not have been aware of until now. During the closing ceremony of the 2018 Winter Olympics, one boy — Oh Yeon-Joon — sang the Olympic anthem so beautifully and angelically that people couldn't look away or stop talking about. And the reaction to Oh Yeon-Joon's performance of the Olympic anthem on Twitter really shows just how mesmerized people were by watching him and hearing his heavenly voice.
Seriously, some people had thought that an angel had arrived into the Olympic arena when Oh Yeon-Joon made an appearance in the closing ceremony on Sunday. Dressed in a light blue coat with white accessories and accents, people couldn't help to be taken by the little boy and his voice that sounded even sweeter than his own appearance in front of the cameras.
If you were impressed by the performances of the youth during the closing ceremony already, than Oh Yeon-Joon's voice certainly added onto this. It was impossible not to pay attention to the Olympic anthem and its inspiring lyrics when Oh Yeon-Joon was at the helm, singing them. People were definitely paying attention to them and simultaneously tweeting about how amazing his performance was at the same exact time.
If there was ever a sound synonymous with angels, then Oh Yeon-Joon's voice is the textbook definition of "angels singing."
His voice was that good, it almost sounded unreal.
Practically everyone who watched the closing ceremony from the comfort of their home can agree that Oh Yeon-Joon was so incredibly adorable and his performance matched his own appearance. While some people wished to adopt him (yeah, he's that cute), others were just impressed that a talent like that could come from someone so small. But people don't have to forget about Oh Yeon-Joon and his cuteness now that the closing ceremony is over. The 11-year-old boy is actually a pretty big celebrity in South Korea in his own right.
Oh Yeon-Joon might be a little young to be such an impressive performer, but his age has never hindered him. He first got his start on the South Korean version of The Voice, on a show called We Kid, according to The Guardian. If South Korea's version of The Voice is anything like America's, then people had to vote for Oh Yeon-Joon and be so impressed with his voice that they had to fight for him to stay on the show. His performance at this closing ceremony definitely proved that he could easily win over an audience since he definitely won over international audiences with his performance.
But you don't have to re-watch the closing ceremony over and over again to see his incredible singing. This is because there are plenty of YouTube videos out there of Oh Yeon-Joon singing on TV. One particularly viral video got 2 million views — needless to say, people on Twitter watching the closing ceremony weren't the first to be impressed by him.
Oh Yeon-Joon's performance of the song, "Colors of the Wind" went so viral that people automatically fell in love with the little boy and his voice due to the fact that he "touched many hearts" with his singing, according to All K-Pop.
Oh Yeon-Joon continued with touching hearts — both of the athletes and viewers at home — when he performed his stunning rendition of the Olympic anthem during the closing ceremony. Although the Winter Olympics is departing from South Korea this year (and headed to Beijing, China in 2022), people will have the memories of the amazing performances during the closing ceremony, like Oh Yeon-Joon's, to hold on to. His performance of the Olympic anthem is definitely one for the books.
Check out Romper's new video series, Romper's Doula Diaries:
Watch full episodes of Romper's Doula Diaries on Facebook Watch.