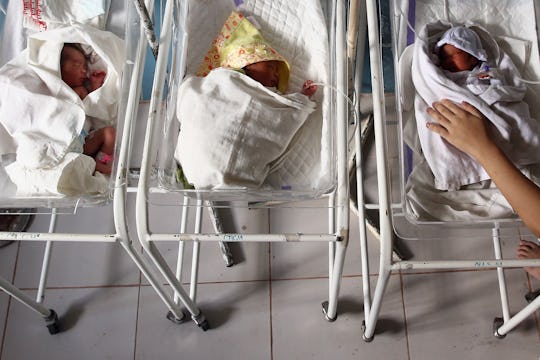 Dan Kitwood/Getty Images News/Getty Images
Why Free Baby Boxes In Ohio Are So Important
When I brought my first baby home from the hospital, his little cradle looked like the Taj Mahal. I had it decorated with stuffed animals, extra blankets, cushioned bumpers; the more the better, was my motto. That baby is now a grown person, and I still shudder to think at what could have happened to him. Because, as we now know, sleeping in a crib full of stuff is actually seriously dangerous for babies. Which is why I was so pleased to find out that Ohio is offering free baby boxes to new parents.
These baby boxes, created by the Baby Box Company, are cardboard boxes double as bassinets and come outfitted with a mattress, a fitted sheet, a onesie, and some diapers. The boxes are available for free to new mothers in Ohio, and are intended to offer parents a safe sleep option to help lower the chances of sudden unexpected infant death. Ohio is the second state to offer free baby boxes to expectant moms, along with important information on best safe sleeping practices for babies provided by the not-for-profit Baby Box University. The "university" website provides helpful tips in the form of short, instructional videos, articles, "ask the expert" features, and e-books.
While the CDC has reported a marked decline in sudden unexplained infant deaths since the 1990s, when health officials began telling parents to ut babies on their backs to sleep, thousands of babies still die every year (in the U.S. in 2015, 3,700 infants died). Ohio actually has the highest infant mortality rate in the country, according to Cleveland.com, and the number of babies dying from sleep-related causes increased in 2015. The high infant mortality rate and the massive amount of support from locals is why Baby Box Company founder Jennifer Clary brought the box program to Ohio. She told Cleveland.com that she wanted all parents to have equal access to sleep education and information:
Whether in a baby box or a $10,000 crib, they're equivalently safe if you do it right. This isn't about the product -- it's about giving parents equal access to basic education.
The California-based company has already launched their baby box program in New Jersey and has also been handing out boxes in Minneapolis, San Francisco, and Phoenix. The end goal is to have free baby boxes available to expectant mothers in all 50 states. Baby boxes are modeled after a longstanding tradition in Finland that started in the 1930s to combat the high infant mortality rate. At the time 65 out of every 1,000 babies in Finland died unexpectedly. That number has dropped to 2.5 deaths per 1,000 babies today.
The Baby Box Company, partnering with Ohio hospitals and health care professionals, plans to hand out 140,000 baby boxes this year in the state. Parents can get their baby boxes in Ohio by registering online at babyboxuniversity.com. From there they watch the videos for the "Ohio Syllabus" on the website and take a short quiz. They can either take the certificate of completion to a local pick-up location or have the box delivered to your home.