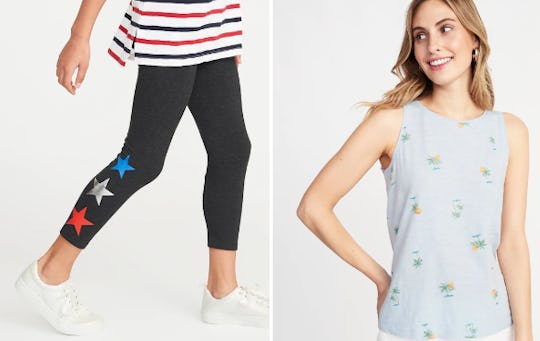 Old Navy
Tees, Shorts, Tanks, Onesies.. All Under $5 At Old Navy's July 4th Sale RN
The 4th of July is almost upon us, which means it's time to buy the most important item of the holiday: the Old Navy flag t-shirt. It just isn't an Independence Day celebration without them. But Old Navy's 4th of July sale has tons of items under $5 for the whole family this year, so you might want to take advantage of the savings when you stop in for the tees.
The patriotic tee is usually my main motivation for hitting up Old Navy in July, but the store is featuring limited edition purple flag t-shirts for Independence Day this year, hoping to send a message of unity, since red, blue, and white combine to make purple. The shirts are meant to encourage people to remember the U.S. is a united nation no matter how divided it becomes with the tee, and they've even turned their logo purple on their site.
Another reason to shop at Old Navy? They've got such good deals that it's one of my go-to's even when they aren't running a promotion. And their 4th of July sale is particularly outstanding. Old Navy is offering up to 60 percent off all regular clothes, as well as 50 percent off swimwear for the 4th from June 27 through July 5. Consider this your excuse to freshen up your summer wardrobe.
Read on to see the best buys under $5 for the duration of the sale, and head to Old Navy to see the special shirts and everything else they have going on for America's birthday. Happy 4th, y'all.