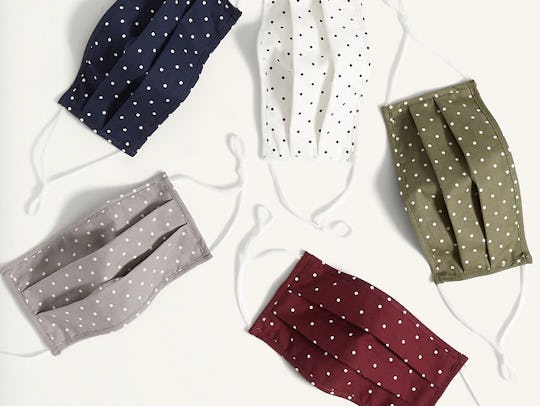 Old Navy
Old Navy's Face Masks For The Whole Family Are Only $2.50 A Pop
Remember back in March when we all made or purchased our first face mask? I was one of those naive people who figured one, with frequent washes, would surely be enough to hold me over. Ha! Nine months later, I think I'm up to 8 face masks. One stays in the car, two in my purse, one in a favorite workout sweatshirt… All this and yet I still find myself often searching the house for a clean option. Old Navy's face masks for the entire family are sold in multi-packs, and by now we should all have learned that buying in bulk is the way to go.
Sold in 3-, 5-packs, and 10-packs for both kids and adults, Old Navy's masks come in all kinds of colors and styles. For parents, they have loads of 3-cloth pleated options all made with stretchy elastic bands and recently added adjusters for extra comfort. And for the kiddos, Old Navy has updated its mask collection with packs featuring silly animal faces, Mickey Mouse designs, and, naturally, Baby Yoda homages.
The kid versions measure 6 1/2" long x 3" high and are made from two-ply fabric to make them breathable. All Old Navy masks are made from 100% cotton, so they can be easily washed.
But perhaps the best part about these bundles is the price. I'm not pointing fingers, but in the rush to outfit people with this new requisite accessory, some vendors are inching toward profiteering. I saw a mask for sale the other day for $100! Granted it was bedazzled and intricately adorned, but that's a pretty penny to spend on something that's become as essential as a pair of socks and is supposed to be washed after each use. To each his own when it comes to budgeting for masks. If a pricey, fancy mask brings you joy, treat yourself. As for me and mine, we'll stick to the more budget-friendly options.
Old Navy seems to understand that families need affordable, well made masks that they can circulate through the wash, the classroom, the grocery store, and beyond. A 10-pack of masks at $25 nets out to $2.50 per mask. And with 120+ pack options in solids, subtle and bold patterns, and even options featuring your favorite characters, there's plenty to choose from.
This article was originally published on