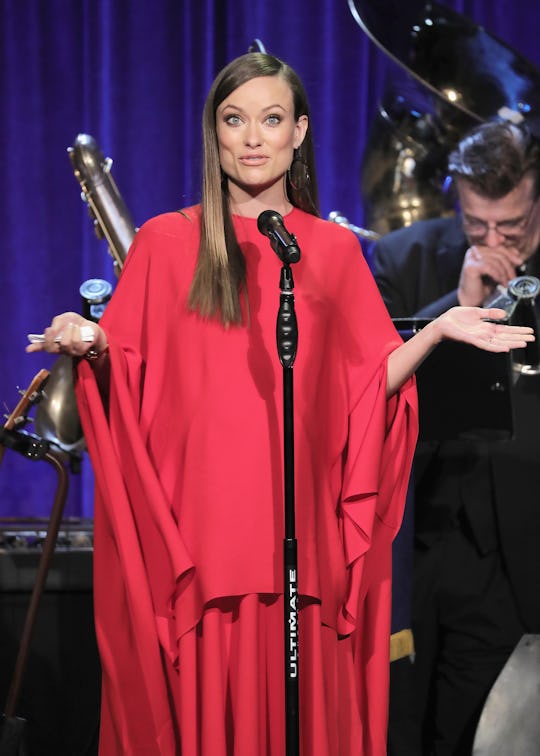 Neilson Barnard/Getty Images Entertainment/Getty Images
Olivia Wilde Shares Cute & Hilarious V-Day Pics
Sometimes they say life is all a matter of perspective, right? Well, for actress Olivia Wilde that apparently has taken on a very literal meaning with her latest Instagram: Wilde posted a photo of her daughter with a giant hand on Instagram Tuesday morning. I have to be honest, it took me a solid minute to fully see it — it's actually Wilde's hand that you see, not her daughter Daisy's hand. But the way the picture was taken it looks like Daisy has this weird giant hand sticking out of her fluffy, baby sleeve. Even Wilde acknowledges the weirdness captured on film with only "#giantbabyhand" as the caption to her photo.
Wilde gave birth to Daisy Josephine last October with comedian fiancé Jason Sudeikis. Wilde is the mother of one other child with Sudeikis — a boy, Otis, aged 2. By the way, if you're not following Olivia Wilde on Instagram, she has a great feed. She has a healthy mix of selfies, adorable photos of her kids and Sudeikis, and a ton of inspirational progressive quotes and calls to action. Wilde attended the Women's March on Washington in January and many of her recent Instagrams include her proudly donning a pink pussy hat.
Wilde's #giantbabyhand photo with Daisy was one of three photos she also tagged with a heart emoji for Valentine's Day. The first was a black and white photo of Wilde and Sudeikis looking like two kids head over heels in love. Seriously, this photo is crazy adorable. Oh to be a fly on the wall in their relationship, if only for the daily hilarity that must ensue between the two of them!
Her second Valentine's Day photo was of her with Otis donning what appears to be hats for his upcoming third birthday in April. Wilde captioned the photo "#chancethelover" — possible music or Chance The Rapper-inspired third birthday theme perhaps?
With nearly 40,000 likes and over 200 comments, #giantbabyhand may not necessarily be the new #saltbae, but damn if it isn't adorable. It's nice to know that Wilde is as much of a "regular" mom as the rest of us and that sometimes yes, in between the gorgeous "No, of course I didn't stage this photo for Instagram" shots that, let's be honest — we all take — she embraces the endlessly funny, weird, and whacky side of parenting, too. And, lucky for us, Wilde posts these glorious moments on Instagram, too.