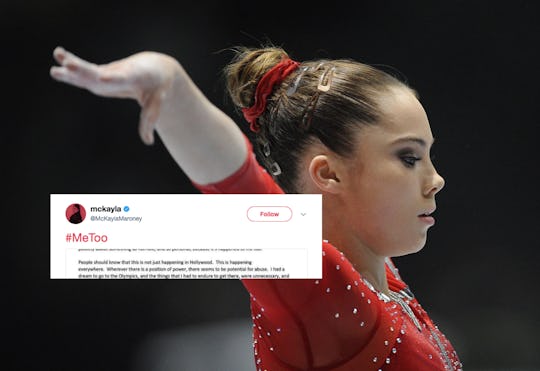 JOHN THYS/AFP/Getty Images
This Olympic Gymnast's #MeToo Post About Alleged Child Abuse Is A Crucial Warning To Parents
The #MeToo campaign has been around for about a decade thanks to Tarana Burke, but it has taken on a viral life of its own in the past week. After actress Alyssa Milano encouraged followers to post #MeToo if they had been sexually harassed or assaulted in the past, women (and people of all genders, really) from all walks of life began posting their stories. While each person's story was unique, it is Olympic gymnast McKayla Maroney's #MeToo post that should act as a cautionary tale for parents.
In a moving letter posted to Twitter on Wednesday, 2012 Olympic silver medalist Maroney opened up about allegedly being molested by United States Women's National Gymnastics team doctor Larry Nassar. In her letter, 21-year-old Maroney alleged that she had been molested by Nassar from the age of 13, and that the molestation continued until she finally left the sport. The abuse reportedly started at a Texas training camp, when Dr. Nassar began to give her a "treatment" he claimed he had been using with patients for 30 years, as Maroney wrote on Twitter.
It seemed whenever and wherever this man could find the chance, I was 'treated.' It happened in London before my team and I won the gold medal, and it happened before I won my Silver.
Romper has reached out to Nassar's lawyer for comment and is awaiting a reply.
Maroney alleged that the "treatments" continued throughout her seven years as a gymnast, until she retired at the age of 20 in 2016. Nassar pleaded guilty to federal child pornography charges in July after police found thousands of images and videos of child pornography on his computer, according to Michigan News. Police found the child pornography as a result of a September 2016 investigation into Nassar's alleged sexual abuse of his patients; it is unknown whether Maroney was one of the plaintiffs.
In her letter, Maroney explained that she found it difficult to "speak publicly about something so horrible," but she wanted people to remember that sexual harassment and abuse by men in power does not just "happen in Hollywood." She wrote:
This is happening everywhere. Wherever there is a position of power, there seems to be potential for abuse. I had a dream to go to the Olympics, and the things that I had to endure to get there, were unnecessary, and disgusting.
Maroney's story is, as we have known for decades, all too common. There's usually an abuse of power, and the abuser takes advantage of someone who might be too afraid to speak out for themselves because their attacker seems to hold all the keys to their future. The women who have accused Miramax producer Harvey Weinstein have said the same thing, as well as many other actresses who have come forward with their own stories of sexual harassment. Weinstein admitted to sexual harassment in a statement to The New York Times, citing the culture at the time, but his lawyer denied any allegations of rape. His lawyer has not responded to Romper's request for additional comment.
The #MeToo post from Maroney is a heartbreaking reminder for parents that children need to be protected at all costs. Because it's not always easy to get a sense of the sort of person you are trusting to be alone with your child. Predators don't always look like predators. And children shouldn't be expected to recognize this sort of abuse for themselves. One of the saddest things Maroney wrote in her post was a memory of being a little girl, dreaming of the Olympics.
I remember watching the 2004 Olympics. I was 8 years old, and I told myself that one day, I would wear the red, white, and blue leotard, and compete for my country. Sure, from the outside looking in, it's an amazing story. I did it. I got there, but not without a price.
The price she alleges that she paid was her childhood, her security, her sense of self. It wasn't a price anyone should have to pay to follow their dreams.
If you think your child might have been victimized, watch for these signs, according to RAINN:
Pay close attention to changes in personal hygiene (like excessive bathing or refusing to wash)
Behavioral changes like shrinking away from physical contact, sleep disturbance, or nightmares
Physical changes like bruising or swelling in the genital area, blood or urine on their sheets or undergarments
Verbal changes; being less talkative, long stretches of unexplained silence, or using language and words that seem too adult for their age.
If you see these signs and suspect your child has been abused, RAINN recommends:
Talk to them directly. Ask age-appropriate questions like, "Has someone been touching you?"
Listen carefully, be patient, and follow up with more specific questions
Reassure them, if they have been abused, that it is in no way their fault.
Tell your child you plan on reporting the abuse to someone who can help
Make sure they are in a safe location
Report it.
Here's hoping that this #MeToo campaign is the last of its kind. That 10 years from now, people will look back at this as a turning point. As a time when women banded together and made sure that no person, no child would ever be abused again.