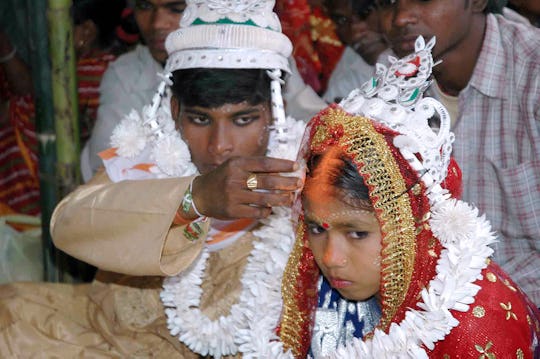 STRDEL/AFP/Getty Images
On Day Of The Girl, This Report On Child Marriage Should Remind You The Fight Isn't Over
Oct. 11 is International Day Of The Girl, a movement started by the United Nations in 2012 to celebrate and champion the rights of girls all over the world. But while celebrities and politicians share inspiring messages on social media, this report on child marriage released on Day Of The Girl is a powerful reminder that the fight is far from over. According to a new report by Save The Children called Every Last Girl, a girl under the age of 15 gets married every seven seconds. By the time you are done reading this post, approximately 40 underage girls will have gotten married.
The study shared an index of "girls opportunities", rating countries on criteria like education and child brides. The Nordic countries scored the highest, according to The Boston Globe, while impoverished areas like Central African Republic, Niger, and Chad ranked at the bottom of the list. UNICEF also shared data that revealed more than 700 million girls to date were married off before their 18th birthday, and one in three of those girls were married before they were 15 years old.
Many of these girls were forced into marriage to much older men and are living in poor conditions. The report also found that many of these marriages took place in countries where the practice is now illegal.
In countries like Yemen, Syria, and Afghanistan, girls as young as 10 years old are being forced into marriage to much older men. According to Save The Children International CEO Helle Thorning-Schmidt, this abhorrent practice begins a cycle in the life of a young girl that is difficult to turn back:
Child marriage starts a cycle of disadvantage that denies girls the most basic rights to learn, develop and be children. Girls who marry too early often can't attend school, and are more likely to face domestic violence, abuse and rape. They fall pregnant and are exposed to STIs (sexually transmitted infections) including HIV.
Some countries, like Gambia and Tanzania, have recently outlawed child marriages, with men who marry girls under the age of 18 facing jail time of up to 20 years. While this is a step in the right direction, it's not enough.
Carly M. Stern, President and CEO of the U.S. Fund for Unicef, wrote about the true cost of child marriage for The Huffington Post, and what we need to do to change things:
If we've largely eradicated child marriage in developed countries, we can — and must — do it everywhere else. The fate of 1.1 billion girls under 18 hangs in the balance. Fortunately, there are 21st century solutions to this age-old problem. They include increasing girls' access to schooling, educating parents and communities on the dangers of child marriage, increasing economic support to families, and strengthening or enforcing laws making 18 the minimum marriage age.
As we take to social media to share photos of our daughters, our nieces, our friends, and ourselves on International Day of the Girl, it's important to remember the ones who truly need our help: those millions of girls who have walked, blank-faced and terrified, towards a life filled with horrors they are too young even to comprehend. The girls who are supposed to be reading books and daydreaming under a blue sky.
We owe them a slice of our own blue sky.