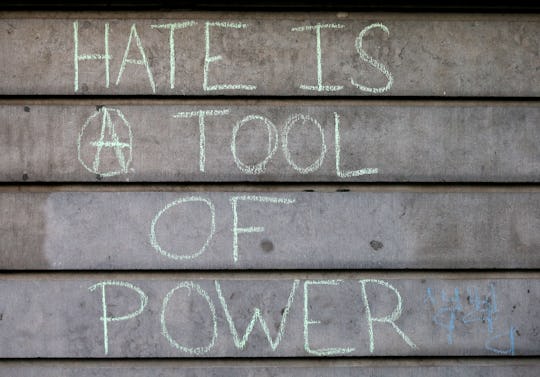 Carl Court/Getty Images News/Getty Images
One Child's Response To Violence Shows Why We Should Focus On Peace After Brussels
Earlier today, humanity was shaken. The foundation of the world was shaken. I was shaken. Because earlier today, three explosions rocked Brussels — two in Zaventem airport, and one in Maelbeek metro — killing at least 30 people and injuring more than 200. In the aftermath, many have called for more fighting: some politicians have said we should combat terror with, well, terror (with bombings and raids, and war). And some, like Republican presidential candidate Donald Trump, have called for vigilance and surveillance of Muslims. But one child's response to violence shows why people should focus on peace after Brussels. One 7-year-old's words are saying more about life and love than many adults I know.
When Vice President of Programming for CBS News Chris Licht's son worked on his homework last night, Licht surely knew his kiddo's words were powerful, but it wasn't until today — it wasn't until after the Brussels attack — those words really, and truly, resonated with him. And the assignment wasn't simple (at least not in my opinion). Licht's 7-year-old son, and his classmates, were to answer questions about activism and life — they had to answer questions about causes they believed were worth fighting for:
What do you think is worth fighting for or against? If you were going to be an activist, what would your cause be? Explain your thinking in full sentences.
But Licht's little boy answered so simply — yet so poignantly — that it brought tears to my eyes:
My cause would be for people to stop killing people, because all over the world people are dying from violent attacks. And I want that to end.
Because while Licht's son may not "have a plan" or have any answers — even though many people on Twitter demanded them from him — he has something many lack: insight and empathy. He has heart. And that's what matters, especially now. Especially in times like these.
Because the answer to violence isn't violence. It is compassion and understanding. It is being brave and bold, but not brash. Does that mean "the world" won't fight ISIS or shouldn't fight ISIS? No. Not necessarily. (I may be an optimist here, but I am also a realist, and I know "love" will only get us so far.) But it does mean is that fighting should be done senselessly or blindly. And terrorists shouldn't be met "at their level" or from a place full of selfishness, anger, hate, and division. Because, if those who stand against terror respond with bigotry and hate, then the terrorists do win, and, for the sake of kids like Licht's son, we can't give them that victory.