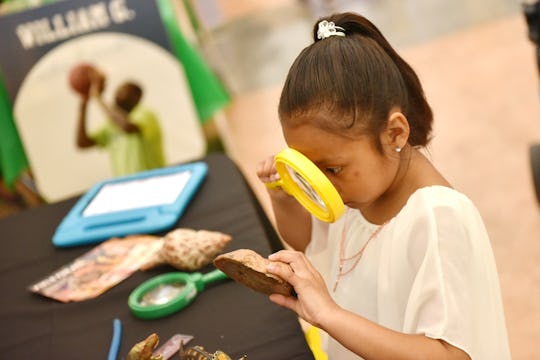 Daniel Boczarski/Getty Images Entertainment/Getty Images
One Of Every 40 Kids In The U.S. Could Have Autism & Here's What That Means
It can be really difficult to discern what to take away from scientific studies, particularly when they involve kids. Perhaps because studies involving children tend to feel more concerning for parents, more immediately pressing, and important than any other information we take in on a regular basis. So when parents read this new study that found one out of every 40 kids in the U.S. have autism, the information can seem pretty daunting at first glance. But it's important to get the full picture.
A recent study published in the medical journal Pediatrics found that one out of every 40 kids in the U.S. have been diagnosed with autism. This information is based on the 2016 National Survey of Children's Health, which was performed by the U.S. Census Bureau's collection of data from more than 50,000 children under the age of 17. This amounts to 2.5 percent of all children in the U.S. living with a diagnosis on the autism spectrum, or approximately 1.5 million kids between the ages of 3 and 17. The Centers for Disease Control and Prevention reported a slightly lower number of reported autism in kids, around one out of every 59 children (or approximately 1.7 percent). But there could be a solid reason for this discrepancy.
The 2016 study that found one out of every 40 children had an autism diagnosis was based on parental reporting, which is clearly not exactly the same as an officially-reported diagnosis from a health care professional. That's not to say that parents were incorrect with their reports (after all, who knows your child better than you?), but it simply makes the exact numbers difficult to grasp. The suggestion by this study that the prevalence of autism is on a serious upswing might not be as accurate as it seems. There is, as Thomas Frazier, the chief science officer for the nonprofit organization Autism Speaks, told CNN in an official statement:
Prevalence is not growing that rapidly, although the CDC's data suggests it is still growing. What is happening is that these studies use methods that are a bit more liberal and inclusive than the CDC's methods.
One of the most troubling things about both studies is that there remains a significant margin of error in reporting. While one relies solely on parental reporting, the CDC's report looked specifically at 8-year-old children at sampling sites across the country. As Autism Speaks noted in a recent article, this type of study could miss out on children who aren't receiving services. Neither does it take into account the different ways each state keeps its records.
These sort of numbers can feel daunting, especially when you're unsure about whether or not your child might be on the autism spectrum and need extra services. So what should a parent do? Daisy Christensen of the CDC's National Center on Birth Defects and Developmental Disabilities told CNN in April:
Parents know their child best. We want to encourage parents to be aware of their child's development, to be aware of the milestones that children achieve.
As the number of children living on the spectrum becomes clearer in the United States, hopefully services for these children will become more readily available as well.
This first-time mom wants to have a home birth, but is she ready? Watch how a doula supports a military mom who's determined to have a home birth in Episode One of Romper's Doula Diaries, Season Two, below. Visit Bustle Digital Group's YouTube page for the next three episodes, launching every Monday starting November 26.