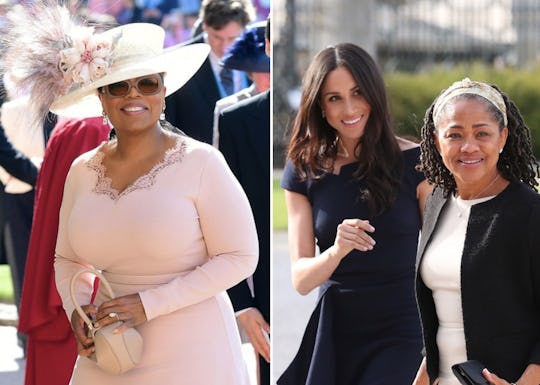 WPA Pool/Getty Images Entertainment/Getty Images/ WPA Pool/Getty Images Entertainment/Getty Images
So, Oprah Hung Out With Meghan Markle's Mom & Here's What Went Down
Unless you've been living under a rock for the past six months or so, you know that a historic royal wedding went down last month. Though the ceremony and afterparties have come and gone, certain tidbits and stories leading up to the big day are still emerging. For example, Oprah recently dished about hanging out with Meghan Markle's mom before the royal wedding and, honestly, you'll wish you were a fly on the wall.
People have been enamored with Markle's mother, Doria Ragland, long before she attended the royal wedding for many reasons. And it sure sounds like Oprah Winfrey is also just as head over heels for the Duchess of Sussex's mother, who's a yoga instructor and, for most of Markle's life, she was a single mom, according to Town & Country.
But, as previously mentioned, the royal wedding wasn't actually their first meeting. In fact, as the Daily Mail reported, Winfrey had apparently invited Ragland over to her house in April. And after months of waiting and speculation about what went down when the closest thing to American royalty hung out with the mom of the Duchess of Sussex, Winfrey herself finally revealed what happened on that day. And basically, it's exactly what you'd expect from these two amazing women.
At the premiere of her new Love Is __ series, Winfrey spoke to Entertainment Tonight about her time with Ragland, and assured the public that, despite speculation, Winfrey did not load Ragland down with gifts or bribes to try to get an exclusive interview with the mother of the bride before the royal wedding. According to Entertainment Tonight, Winfrey said:
The story was that Meghan's mom had come to my house and she left laden with gifts. You know what the gifts were? First of all, she's great at yoga, so I said, "Bring your yoga mat and your sneaks in case we just want to do yoga on the lawn." So one of the bags was a yoga mat and the other was lunch.
So no, Winfrey did not try to give Ragland a ton of nice gifts to get her to sit down for an interview with the multimedia mogul. But the two did more than just yoga. According to Entertainment Tonight, Winfrey and Ragland ended up figuring out that they had a shared love of a certain food.
As Winfrey told Entertainment Tonight, it turns out that the two women really enjoy a good kumquat, and Winfrey actually grows her own at her home. As Winfrey told Entertainment Tonight:
She said, "I love kumquats," and I said, "I have a kumquat tree! You want some kumquats?" So it was a basket of kumquats, people. For all of the people who said I am getting her gifts and I'm trying to bribe her for an interview — they were kumquats. If kumquats can get you an interview, I'm all for it!
So it really sounds like the two just enjoyed a nice time together with some yoga and some kumquats, as you do. And truly, Ragland and Winfrey bonding and spending time together just feels right, doesn't it?
After all, both women are trailblazers. Ragland, according to the New Yorker, is a social worker in mental health and she raised Markle as a single mother for much of her childhood, all while rocking a fierce nose ring. And Winfrey, well, she's Oprah Winfrey, y'all. She's a trailblazer in her own right.
It wouldn't be daft to wonder if the two are able to maintain a friendship long after the royal wedding, as it seems they have a lot in common. For now, though, they'll always have yoga and kumquats.