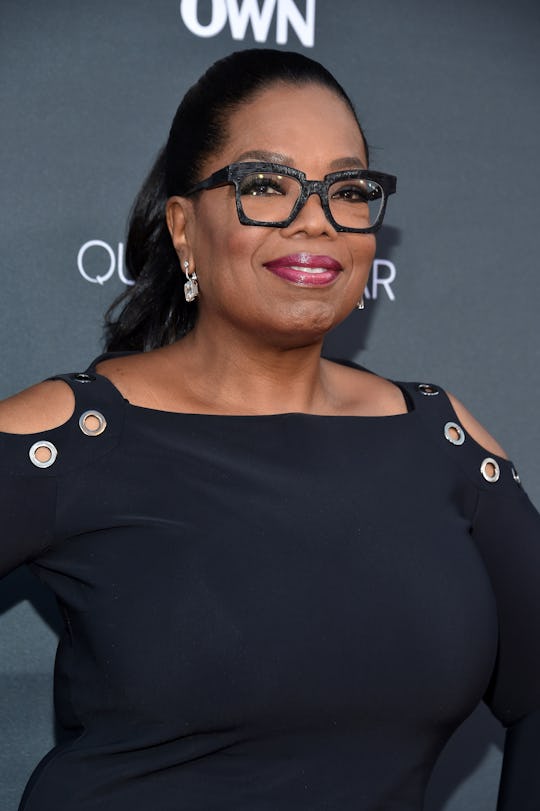 Mike Windle/Getty Images Entertainment/Getty Images
Oprah's Recent Comments About Trump's Presidency Are Just What We Need Right Now
We've had our time to feel awful, to mourn the country we all thought we might wake up to on Wednesday morning after the election. And now it's time to move forward together. So sayeth our guru Oprah. When Donald Trump was elected on Tuesday, the country was well and truly split down the middle. But now it is time to get back together. Oprah Winfrey spoke out recently about the Trump presidency and, as usual, she is just right about everything.
When Donald Trump beat out Democratic nominee and former Secretary of State Hillary Clinton to become the 45th President of the United States, it was a shock to many of us. And not necessarily a welcome one. After all, Trump has absolutely no experience holding any sort of public office. He has a history of racist, sexist, and xenophobic rhetoric. His campaign appeared to be mostly based on catchy slogans a la "Make America Great Again", "Drain The Swamp", "Build A Wall", and possibly the most disturbing, "Lock Her Up" (referring to his one-time political opponent Hillary Clinton, who many of his supporters would apparently like to see behind bars). For those who did not support a Trump presidency, the world in the days after the election felt a little unbalanced.
But now, as Oprah said in an interview with Entertainment Tonight on Friday, it is time to "take a deep breath". After President Obama met with president-elect Donald Trump at the White House, Oprah said that seeing the two men together gave her "hope."
I just saw the two of them together, I will say this: I just saw President-elect Trump with President Obama in the White House and it gave me hope. To hear President-elect Trump say that he had respect for President Obama, it felt that he had reached a moment where he was actually humbled by that experience.
Oprah, who endorsed Hillary Clinton for president in June and has remained an outspoken advocate of President Obama throughout his two terms, went on to say:
To hear President Obama say that he has renewed confidence in the peaceful transition, I think everybody can take a deep breath. Everybody can take a deep breath now! Thank you.
So that's the good news, guys. Oprah says we can take a breath and I believe her. We can move forward with a little hope for the future, a little faith in ourselves and our fellow human beings. But now I'm going to hit you with the bad news. When Entertainment Tonight host Brooke Anderson asked Oprah if she might run for president some day, she answered:
That will never happen to me! I think we have, you know, we… America has spoken. That is the one thing I can say will never happen to me.
Typical. Oprah giveth, and Oprah taketh away.