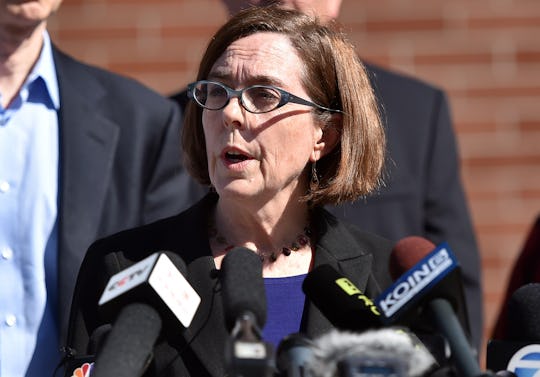 JOSH EDELSON/AFP/Getty Images
How This New Oregon Law Will Expand Abortion Access & Protect Women's Rights
Women's reproductive rights and access to affordable health care are always under siege, but they've been politicized almost more than ever before under President Donald Trump's administration. As many states tighten access to affordable and safe abortion coverage, there's one little glimmer of hope for feminists and pro-choice allies: Oregon is set to expand abortion access for women in the state, thanks to a bill Gov. Kate Brown signed into law on Tuesday.
The bill, called the Reproductive Health Equity Act, is being lauded as one of the most progressive bills regarding women's health care in the country, as it requires insurers to cover birth control and abortion access without even a co-pay. In addition to that, the law allocates state funds to ensure reproductive health care to anyone excluded from Medicaid, regardless of gender, gender identity, or immigration status.
It's a huge move that ensures women have the right to decide what to do with their own bodies and when to start a family, despite their income level.
According to The Washington Post, Amy Casso, director of the Gender Justice Program for Western States said in a statement:
In the face of relentless rollbacks and attacks at the federal level, Oregonians are showing the rest of the country what it means to be resilient and visionary. There is still work to be done, but today we celebrate that more Oregonians have the freedom to decide if and when they have children based on what's best for them and their family's circumstances.
The passing of the new law is an encouraging sign for women's reproductive rights and health care advocates as other states are not-so-slowly cracking down and restricting access to abortion and birth control for women. On a federal level, the Trump administration has already made moves to roll back Affordable Care Act protections that ensure women can get birth control covered within their insurance policies and has blocked Medicaid reimbursements to Planned Parenthood in order to "defund it."
Just this week, Texas passed legislation that would require women to buy an extra insurance policy if they want coverage for abortion, even if they were raped. On another level, it's also impractical since no one plans to have an abortion — in essence, it's another way to put women's lives in danger and further politicize the topic of abortion.
Opponents of the new Oregon law criticized Gov. Brown for "disregarding thousands of future Oregonians whose lives have been further endangered by making their elimination 100 percent expense-free," according to a statement made by Gayle Atteberry, executive director of Oregon Right to Life, as U.S. News & World Report cited.
Oregon's new law protects women from all of the federal efforts by the Trump administration to restrict women's health care — even for non-citizens — across the board. It's a very good reminder that states can indeed resist those leading the nation in their own ways. And as such, electing legislators who'll do that elsewhere in the mid-term elections — especially women (and more importantly, women of color) — is essential if Americans want to protect women's health care and their right to choice.