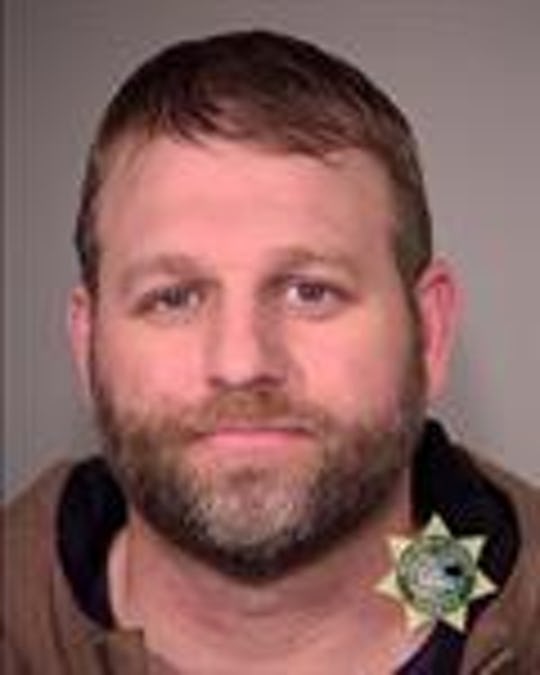 Handout/Getty Images News/Getty Images
Oregon Standoff Leaders Acquitted On The Same Day Dakota Pipeline Protesters Were Arrested
The six men and one woman who took over the Malheur Wildlife Refuge earlier this year were acquitted of all charges in court on Thursday. Ammon Bundy, his brother (and alleged co-conspirator) Ryan Bundy, and their five followers staged an armed takeover of the Oregon wildife park in January that lasted for 41 days and lead to millions of dollars worth of damage. Meanwhile, as the Oregon standoff leaders were being acquitted, activists across state lines, protesting the North Dakota pipeline, were being arrested, pepper sprayed, and shot at with beanbag rounds by police in riot gear.
The Bundy brothers and their followers were accused by the government of "engaging in a lawless scheme to seize federal property by force," according to The Huffington Post. They were charged with conspiracy to impede federal officers through intimidation, and were also charged with possession of firearms in a federal facility and theft of government property. Lawyers for the Bundy brothers and their followers argued that the 41-day occupation was a legitimate and patriotic act of civil disobedience. A federal jury in Portland came to the decision on Thursday to acquit the right-wing activists on all charges. Angie Bundy, Ryan Bundy's wife, told The Guardian she was ecstatic with the acquittal:
We are just so excited. We've been praying hard, and we knew they hadn't done anything wrong.
This wasn't the first time the Bundy family staged a standoff with the government; in 2014 father Cliven Bundy led an armed standoff against federal officers at his desert ranch in Nevada, claiming that the U.S. Bureau of Land Management had no right to attempt to seize his cattle and restrict his land use in return for the over $1 million dollar debt he had accumulated for grazing taxes. Officers were unable to seize Bundy as hundreds of supporters showed up at the Nevada ranch, armed and spoiling for a fight. Sons Ammon and Ryan Bundy were involved in the Nevada standoff, and that involvement could still come at a cost; They were the only members of the Oregon wildlife takeover to be held in custody after Thursday's acquittal.
The Oregon standoff in January came about as a protest against the prison sentences of local ranchers Dwight and Steven Hammond, who were convicted of setting fires. The resulting 41-day standoff brought about millions of dollars worth of damage to the bird sanctuary, mostly caused by tents and barracks created by the militia group, as well as the death of one protester at the hands of a federal officer.
While the Oregon right-wing protesters were being acquitted, federal officers were arriving in full riot gear with pepper spray and military Humvees to arrest at least 16 protesters from a camp on private property that stands in the way of the North Dakota oil pipeline. These protesters, from Standing Rock and other tribes, arrived in the hundreds to protest and protect their right to clean water that they claimed would be harmed if the pipeline were allowed to be built.
These protesters stood together with other Native Americans and environmental activists to stop the pipeline which would run within a half-mile of the Standing Rock Sioux Reservation. The 1,172-mile pipeline could potentially contaminate their drinking water and disturb ancient, sacred burial sites. This is the second large-scare arrest of pipeline protesters within a week; Last week more than 80 protesters were arrested in a five-hour conflict.
Many of the protesters were praying and listening to tribal elders when federal officers approached.
For now, it's unclear what will happen to the Dakota pipeline protesters who were arrested — but if their eventual judgement ends with anything more severe than that of the armed protesters from the Malheur Wildlife Refuge, it's a guarantee that tensions will continue to rise.