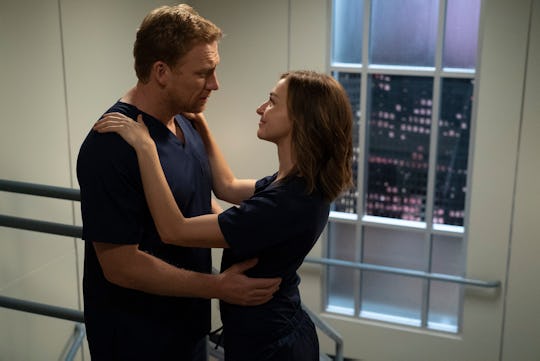 Eric McCandless/ABC
Owen & Amelia Are Back Together On 'Grey's Anatomy' & The Love Triangle Is Dead
Grey's Anatomy wouldn't be Grey's without a love triangle to take up precious screen time every week. The drama has been dialed back on the Jackson and Maggie saga and Meredith is still figuring out what (and who) she wants, but Owen, Teddy, and Amelia were deep in their love triangle on Thursday's episode. Luckily, Owen and Amelia got back together on Grey's Anatomy, but Twitter still hasn't forgiven him.
Once upon a time, Amelia may not have seemed like the right match for Owen. That is, tumor Amelia. They never got on the same page about what they wanted and things went from bad to worse during and after their wedding. They finally got divorced, only to find their way back to each other and finally get in sync.
Cue the one night stand BFF pregnant with Owen's baby. A baby he's always wanted to have, mind you. It's a big complicated primetime soap opera mess. And although Owen professed his love and devotion to Amelia on Thursday's episode of Grey's Anatomy, I don't think it's going to be that easy.
Teddy and Owen keep having these *moments* that make it seem like there are some unresolved feelings between them that could come up once their baby is born. I'm definitely not looking forward to a down and out Amelia on delivery day. And fans on Twitter aren't as quick to forgive Owen as she was.
The Owen/Amelia/Teddy love triangle lasted all of three or so episodes, which makes me believe that Amelia and Owen's resolution is going to be short-lived. He started off the episode by calling her a "crap situation," so there's that. He also gave her the typical Grey's style speech about choosing her over Teddy, but Teddy and Owen have too much history, and now a baby, to make his decision that easy.
Although it would seem that there has finally been some kind of resolution o the Owen/Amelia/Teddy drama, Kim Raver, who plays Teddy, recently confirmed to TVLine that it's about to get more complicated.
"There's another fantastic element that gets thrown in," she revealed. "There's an 'other person' element, and it's fun and funny and complicated. It's great because it's quintessential Grey's Anatomy where it's not just one layer. We were just shooting a scene that was so uncomfortable and funny and great and wild."
Right now it's unclear what the other layer to the love triangle will be, or who will be thrown into it, but these are three people who all want to do anything but hurt each other. Teddy obviously loves Owen, but doesn't want him to be without Amelia because he loves her. And Amelia knows how important having his child in his life is to him, so she doesn't want to ruin things between Owen and Teddy.
They're all too mature for their own good. So mature that Owen made up with Amelia because he's chosen to love her over Teddy. But things are still messy and Twitter still isn't happy with the guy.
I would like to believe that Owen and Amelia are headed in the right direction now that he admitted he needs her. After everything she's been through on both Grey's Anatomy and Private Practice, she definitely deserves a happy ending. Since it's still only the middle of the season and Raver promised more troubles ahead for the three of them, though, Owen's little speech probably isn't going to be enough.
It looks like Amelia and Owen still have a long way to go before they beat the Grey's Anatomy odds and get their happily ever after.