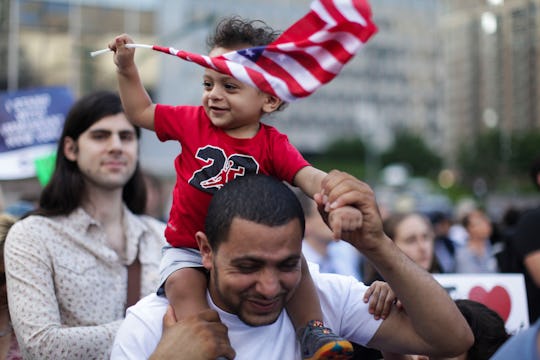 Byron Smith/Getty Images News/Getty Images
What You Need To Know About "Playdate Protests" Led By Parents Fighting For Immigrant Families
Last month, the Trump administration adopted a "zero-tolerance" immigration policy that led to thousands of infants and children being torn from their parents at the border, causing nation-wide outrage and calls to action. News of family separations reached such a fever pitch that President Donald Trump signed an executive order last week halting the practice. But the "zero tolerance" aspect is still in play, and that's why parents are holding "playdate protests" — with their children in tow — to fight the Trump administration's immigration policies. And here's how you can get involved.
Last Friday, over 50 people people in New Jersey staged a "nurse-in" in front of the state's headquarters of U.S. Immigration and Customs Enforcement (ICE) in Newark to condemn the government's treatment of immigrant families, according to NJ.com. Among the protesters were more than a dozen mothers, who nursed their babies in the courtyard of the ICE headquarters while carrying a "Families Belong Together" banner, NJ.com reported.
The protest took place the same week news broke that 20 immigrant children arrived at the Center for Family Services, a social services agency in South Jersey, within the past month, according to Observer. A total of 27 children are staying at the Center, three of whom were separated from their parents because of Trump's policy, Observer reported.
Rabbi Jesse Olitzky of Congregation Beth El in South Orange, a speaker at Friday's nurse-in, told the crowd, according to NJ.com, "Our job is to protect our children. Our job is not to put them in cages — to put them in jail."
Olitzky's comments echoed the sentiments of the nurse-in's organizers, who said ahead of the event, according to NJ.com:
As parents, we refuse to sit by while the government removes children from their parents at the U.S. border. We are especially heartbroken and enraged by stories of breastfeeding children being taken from their mothers' embrace.
The Friday demonstration in Newark, New Jersey is one of several dozen parent-organized "playdate protests" and "nurse-ins" that have taken place across the country. Over the last week, families in New York City, Chicago, Tacoma, Los Angeles, Portland, and Detroit have all led similar direct actions, according to Waging Nonviolence.
And it's easy for other parents to get involved and organize their own "playdate protest." Hand-In-Hand, a national network of domestic employers, has put together a Playdate Protest Action Guide as part of its #SanctuaryHomes campaign. The comprehensive six-page guide includes everything a family needs to host family playdate actions at local detention centers and ICE offices.
But there are other ways you can get involved if you can't organize your own "playdate protest." You can attend the one of the #FamiliesBelongTogether marches taking place on Saturday, June 30 in Washington, D.C. and in other cities across the country, according to Vox. The National Domestic Workers Alliance, the American Civil Liberties Union, MoveOn, and the Leadership Conference are leading the protests in partnership with hundreds of other advocacy and legal groups, as Vox reported.
Or you could sign up and participate in the End Family Detention rally, happening Thursday at 10 a.m. ET in the District of Columbia, according to Waging Violence. The action, which is being led by the Women's March and the Center for Popular Democracy, is being billed as "a mass civil disobedience" on the official End Family Detention website.
Trump's recent border crackdown has and continues to devastate immigrant families coming to the United States. And, despite Trump's executive order, thousands of children have yet to be reunited with their parents, according to CBS News. So whether you organize a nurse-in or playdate protest, march on the streets of Washington, D.C., or call your local representative, let the Trump administration that this isn't OK — and it never was.